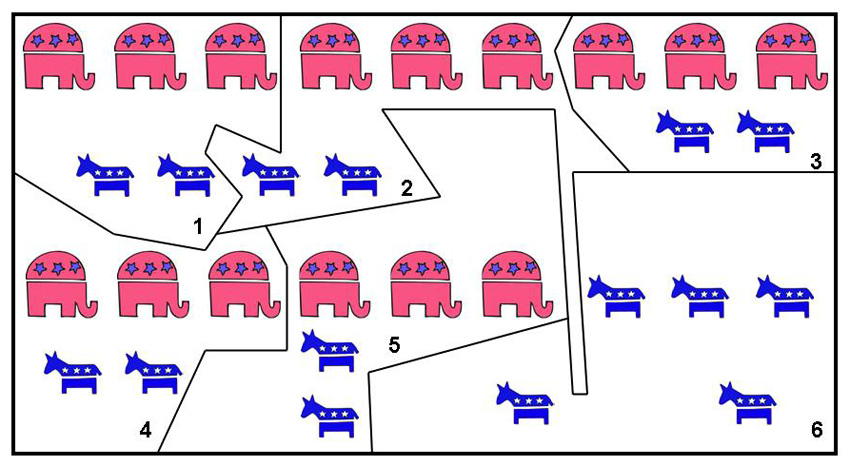 The definition of a gerrymander is a changing of voting districts to give one party an advantage or disadvantage a group. An example of gerrymandering is to change the geographic boundries of a voting district so that more voters from one political party are included. This is crooked as shit.
The only sure way to eliminate gerrymandering from American elections is to adopt proportional representation. The key to eliminating partisan gerrymandering is the large multimember districts used in PR systems. As numerous studies have shown, as long as a PR system has at least five seats in every district, it is effectively immune from gerrymandering. These districts largely eliminate the wasted votes that make gerrymandering possible. In such districts, even small political minorities do not waste their votes and are able to elect their fair share of representatives. Thus, fair representation will result.
Imagine, for example, that we have a region in a state that is 60 percent Democrat and 40 percent Republican and that it must be divided into two ten-member PR election districts. No matter how the district lines are drawn and no matter how party voters are distributed between the districts, each party will be able to elect its fair share of representatives. If all the Republicans are packed into one district, they will constitute 80 percent of the voters there and elect eight of the ten representatives in that district and none in the other – 40 percent of the total seats. If the Republican voters are fragmented and make up 40 percent minorities in the each of the two districts, they will be able to elect four representatives in each – and still receive 40 percent of the total seats.
And most other developed nations already have systems of proportional representation.
How To Reform The Electoral College
How To Reform The Stock Market