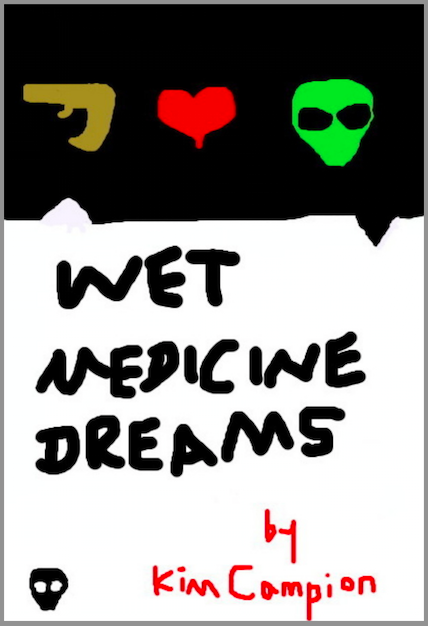 Surgery
Copyright © 2013 by Kim Campion
My gramma asked me to help her kill herself. It was kind of a weird thing for the universe to throw at me considering she was the only person who knew I had seriously considered suicide at one time and the only person who'd helped me get through it. How I got through it was I got plastic surgery. She helped me pay for some of it too. So I only had to get myself into somewhat marginally fucked up credit card debt. Because I will cover this later but I will say you got to protect your credit with your life, it is your passkey to get through society and acquire the things you need like healthcare and a house and transportation and brand new titties but sometimes you have to sacrifice your financial life so you can actually live and then your finances end up rising out of the flames like a phoenix anyway because you have such a better frame of mind that prosperity consciousness just comes naturally to you.
But back to my gramma. She was all fucked up from various degenerative ailments and was in constant pain poops in a diaper etc so I couldn't tell her no. And I realized she had every right to want to go with some peace and dignity and freedom from needless suffering. She wasn't giving up on life, it was just played out was all. So I told her I would need to prepare myself for a couple days and she said ok but hurry up this body ain't gonna to kill itself. I laughed. She had heard that joke in a movie where someone says something like "this dick isn't going to suck itself". She could be funny. But this account isn't actually about my gramma per se, i.e. about her own hopes and dreams and her personality. I will write a separate story about her actual life and struggles and growth. This one's about how she helped my life.
She died three days into my research, when we were about to purchase a pistol. I wasn't being lazy with the research either, like just letting her suffer while I fucked around online. There were more options since I had been suicidal over fifteen years ago. And First off, I had to ask my gramma if she wanted to see a therapist which she didn't. Because I wasn't going to just kill my gramma without trying to put her in therapy first. And probably myself too. I was nervous about even discussing this with a therapist because what if I got charged with murder and the cops pressured the therapist to spill how I was telling her I was researching ways to kill my gramma. I'd seen shit like that on tv.
Anyhow, this is what I learned about new suicide ways: From what I understand, assisted suicide is legal in some places like Switzerland. There is even "suicide tourism" where people with the means can travel there and get killed at a euthanasia clinic. The Swiss have a really great method too. They give you sodium pentobarbital which makes you fall asleep very comfy like. Its what the U.S. used for needle executions in prison but now the Danish company Lundbeck that manufactures it has forbidden using it for capitol punishment. Pentobarbital is the generic form of the brand name Nembutal, one of those hard core sleeping pills that bims in the sixties took like in Valley of the Dolls.
Okay so a euthanasia doctor gives you a prescription of Nembutal combined with an anti-emitic (which is a drug that prevents throwing up) and you just go to sleep and your heart stops. Studies show that almost everybody would prefer this type of suicide to the other available options. This is why a lot of veterinary offices are all security conscious and have to buzz you in through an intercom after hours like they're an abortion clinic or something. It's because the junkies know that the veterinarian has some good drugs. Like pentobarbital formulations which, in addition to acting as the perfect suicide tool also make you feel relaxed and high and even hallucinate. Veterinarians give this drug to dogs who have seizures. Human doctors give it to humans for seizures also. Probably everyone would pick this method out of all the others except for sober alcoholics. They wouldn't want to break their sobriety and die all fucked up on some downers. Which makes sense to me.
Anyhow, in poor countries, apparently hanging is the most popular method to kill your self because of the cheapness and availability of rope. But it is very painful, you suffocate to death, it's only instantaneous if you break your neck when you fall and for that to happen you can't just kick the chair out from under you. You have to get the physics of it right with the correct trajectory when you fall from like a second story or something. In the US a lot of suicides are by gun, and I don't think that sounds like an awful way to go provided you don't fuck up and just blow half your face off and then end up a vegetable and deformed to boot.
There's a newer method that some people are using and it's called the exit bag. Its cheap, all you need is a plastic bag, about a thirteen gallon garbage bag is fine and some gas. You can buy a fancier bag online for forty bucks which has Velcro enclosures for around your neck but you can use rubber bands or whatever. Apparently if you use carbon dioxide it is a painful death because the body recognizes when it is breathing in C02 instead of oxygen and it panics. But if you rent a tank of helium from a party store and attach that into the bag the body won't know it's breathing something besides life giving oxygen and you peacefully pass out before you know you're suffocating.
But I think that way sounds creepy. People in the US are smart by just blowing their brains out with a gun. I think that is way quicker and nicer. But some folks care about who is going to find their body and they don't want to look undignified or gross. They don't want their brains drying on the drapes. I guess they'd rather be found with a plastic bag on their heads. My gramma didn't care about vanity though, she said a pistol would do fine. So at first I was going to buy a black market gun because I obviously didn't want the cops to find out the gun registered in my name had been used to kill my gramma even though I don't think they would have found any kind of motive for my doing it. But then I figured I could get all flustered about having to lie and they would wonder how this infirm old lady managed to purchase an illegal firearm so I realized I was just going to have to buy one at a store. I could just say she stole it out of my nightstand when I was going to the bathroom. Besides, I wasn't going to be the one who did it. She said after I got her all comfy and arranged attractively on some pillows in her bathtub (she wanted to be as comfortable as possible but still make it easier for the unfortunate people who have to clean up crime scenes and dead bodies), that she would give me plenty of time to get somewhere public so I'd have an alibi and then she'd do it.
Luckily my gramma had to go to the hospital that weekend and within 72 hours she died peacefully in her sleep on a shitload of morphine in the hospital so that was nice. I was with her the whole time. I love her. As I said She helped me a lot when I suicidal at a very young age. It was because of my looks. I was born an ugly beast for real. On my dad's side of the family there runs an unfortunate resemblance to the Frankenstein monster. They are big tall weird looking people. My body was ok. I could get a little overweight sometimes, but I had a strong athletic frame and I was pretty good about staying fit and healthy. No real problem there. But my face was a problem.
I had a big forehead, which is often what happens when you're born with a buckethead (a big head). I had a giant wide jaw, like pretty heavy and square. My dad once said you could crack walnuts with it. And I got this big nose. I just got a really unfortunate combo of heavy features, small sunken eyes, and a big nose. And not a cute femininely shaped large nose either. It did not fit my face, it just looked like someone had put a pair of those gag glasses with big noses on my face while I was sleeping.
My parents were relatively healthy people and not unattractive. My dad did razz me about my looks sometimes to get me to not take myself so seriously (he was in the Army and then got a job as a high school football coach so he nurtured me in kind of a tough stop being a pussy and get that touchdown kind of way) and that is not at all what damaged me. Cuz they also said I was cute and they meant it. They actually loved me, their objectivity regarding my looks was not reliable because I was their progeny but they did love me. What damaged me was that I was not considered attractive by the opposite sex. And my girlfriends would try not to hurt my feelings but I knew they were secretly glad their nickname in high school was not "Lurch".
I did develop some hatred toward men for being rejected and being the chick they wanted to fuck if I kept a bag over my head etc but ultimately I couldn't really blame them. We all want to have sex with someone we find attractive, even the ugly people. Just because I was ugly didn't mean I wanted to fuck other ugly people, although that is usually what happens (unless one of them is rich). But generally what happens is two ugly poor, working or middle class people find each other and then they have an ugly family. It is also true that energy accounts for so much. There are some people who have such good kind souls or are really evolved and have major spiritual presence and thus a lot of sexual energy (because spiritual energy is sexual energy, it's ectoplasm rising up through your root chakra and out the top of your head) and this makes them sexy. Or you can be ugly sexy like when someone has these kinda tore up looks but there's still something kind of good looking about them. Plus if they have a lot of confidence ugly sexy can be real sexy. And it is true that handsome is as handsome does. People do become more attractive once you know them and they turn out to be really great. And pretty people who are assholes end up fucking gross when you get to know them or once they have steeped in their own asshole vibes for long enough. But there is a problem sometimes with getting past the initial ugh you have not a cute face.
And I sure wanted to have fun and have sex and feel desired. And maybe someday have a relationship or several. But that was being denied to me. And my self esteem was just fucking low. We are a visual fucking species. It just sucked. I tried to read some self help type literature on the subject. The turning point for me was when this one lady wrote an article about how she had suffered throughout her life for being a somewhat frightening specimen but now she was married and had worked through most of the feelings that she couldn't believe her husband wanted to be with her. And she went on and on about how she got fucked with in high school and how it was still harder to get jobs and promotions and help in stores etc etc and how she is actually still pretty bitter about it but she is taking the high road by self acceptance and not being shallow and it just dawned on me. Bitch what is more shallow is still being obsessed with your face but not admitting it. Like just be honest it bothers you and go get yourself some surgery so you can start putting your energy into something else more constructive.
It's kind of like what the fuck. If you aren't cute, it's ok, go ahead, you can fix it. Looks aren't everything but they are a big deal in a lot of ways and it's not going to hurt anyone to get the work done. As long as you don't smoke, complications are rare. Getting some plastic surgery is not going to cause the assassination of a beloved world leader or something; it isn't going to hurt anyone to get some work on your fucking face. After reading this person's long in-denial treatise on why she is such a better person because she's been unhappy her whole life yet never taken any action to change it, I knew what I had to do.
So instead of committing suicide or worse being a bore I got my jaw broken and reset. They shaved my jawbone down and reshaped my chin. I got a nose job. I got some collagen in my upper lip. I was real careful with the fillers though since you can get hogwild with them and end looking like all those aging stars with melting candle Joker faces but I got the right amount. I also got a small eyelift on my left eye since it drooped somewhat perceptibly compared to my right eye. I don't feel the need to tell you the technical medical names of these procedures and what all exactly they did to my muscles and skin because who cares. The doctor will discuss all this with you if you're a fellow uglo and you need some help. Oh yeah and I got laser resurfacing on my face from the intensive acne scars I had. I forgot to mention those. I had borderline disfiguring acne in high school.
It was actually during the zitty times in high school when I first seriously considered committing suicide and then again in my early twenties when the scars were still darkly pigmented and deep. The rejection I got from boys was just so bad. And the cystic acne zit pustules were so evil and painful. I decided I was going to slit my wrists in the bathtub but I was so worried I wasn't going to do it right. Apparently when people try to slit their wrists the correct way, you know vertically instead of horizontally, if they survive they often have fucked up deformed handicapped hands because they sever the tendons in the wrist connecting to the hands. I became convinced I was somehow going to fuck up my suicide. That may be the only reason I survived. That, and I could never handle my liquor or drugs. My stomach was too sensitive for even like aspirin. I guess it wasn't my karma to be an alcoholic or addict. It was just my karma to be a monster for a while. But anyhow, that's all over now.
Everything took almost a year to finish and heal from. My gramma gave me about half the money and the rest I put on credit cards. Some of the debt I was able to make deals with the credit card companies for and just charge them off, some I just had to wait the seven years for the outstanding debts to erase off my credit. My credit looks ok now but it took ten years to repair and a lot of blood sweat and tears so I would never advise it unless you just got to.
With my new face I went from being seriously a 3 to a 7 ½ ! Even an 8 on a good day with good lighting. I got so much more dates! I got so much more sex! First I kind of went nuts and had the adolescence that was denied to me before. I sucked some dicks pretty indiscriminately let me tell you. And then I had to get even with men for a while for rejecting me by being a completely obnoxious cock tease. But I calmed down with that behavior before I got raped and murdered and ended up dating three very nice kind attractive gentlemen. I still am just having civilized short serial monogamous encounters because I couldn't even imagine settling down, unless I really fell hard in love. I bypassed the desire to procreate and marry when it was denied to me initially and my only options were to have married a frightening man who resented me because I was all he could get. Now I'm just enjoying being relatively young still (early forties) and dating. I might settle down about five years from now. Or maybe not, who knows. All I know is I'm happy.
And it's not like the romance part of life is even guaranteed. Because lots of times when people fall in love it's only to do some specific karma together like raise a child or whatever and then the karma is over and you don't want to be with them anymore. I have no romantic illusions about anything. I'm just so happy to walk into the grocery store and get checked out. By both men and the lesbians who work at the organic supermarket I go to. It feels wonderful. Work got so much better too. I am an accountant haha which is pretty funny seeing as how I was willing to butcher my credit for the time being (there are ways to repair it quickly however. Like paying your credit card off in full every month, even if it just has a 500 dollar limit or something and you feel like a loser criminal who got issued a pity credit card after being released from jail with a brown paper bag holding your things It doesn't matter you just nurture that little five hundred limit credit card and treat it real good.)
If you can stay employed full time for a while it looks good. I know that is miraculous in this economy but it can still happen. There are a lot of things to make your credit better. First off, make sure you vote for the progressive liberal candidates. Seriously if you want a job with health insurance and paid sick days and a union you got to vote for the progressive liberal people. If you can, get a used car and make the payments regularly every month. I know there's all manner of things you can do with your mortgage or equity but I never messed around with that. I rent. I don't like the idea of being trapped in some pile of bricks. What if you find out one of those scumbag oil companies did some fracking in the woods behind your house and now you can light the water coming out of your kitchen faucet on fire? Actually I know that particular problem is going to be done away with soon. Fracking will be made illegal and we're all gonna have solar panels on our roofs very soon. But I'm still just gonna rent cuz what if I get a better job somewhere else or I just get bored with the area or and want to get the fuck out?
But paying your rent on time looks good really good. In today's economy I know it's very hard to get any kind of job with a liveable wage due to all the jobs being overseas which they are going to have to bring back or else eventually the poor people are going to have a revolution and put all the rich peoples' heads on pikes but you deserve financial stability and you will have it if you believe. And you deserve to feel physically good about yourself. You deserve to not feel suicidal because people think you're frightening. Or even if you're just averagely unattractive or you happen to be older and you've aged in some bummer ways. Those situations can be painful too. Just get the work you want done so you can participate in this earthly realm the way you want to. Cuz seriously in this dimension we have flesh bodies that our souls live in and how the earth vehicle looks sometimes matters.
Now with all that said, my gramma really helped me with this next part too: she said I understand you wanting to look physically attractive, that is so normal. But don't go overboard. Don't get all fake and wear too much makeup or high heels that mutilate your body (my gramma was a staunch supporter of sensible shoes and I agreed with her after I saw the xrays of women's bodies who wore high heels and they seriously have deformed feet and hip problems and poor circulation and swollen weird foot veins and bad backs). Body mutilation is usually a form of mental illness. It's weird fetish shit. My gramma just kept saying that the natural look is best and it's what most people find the most attractive. So I just invested in some high quality classic pieces that fit my body flatteringly and cute shoes with a heel never more than an inch a half. And I just wear a tee shirt and pair of jeans and sneakers most of the time when I'm going about my daily life. I get asked out all the time.
I also quit my job working for an accountant-in-a-box corporation and went into business for myself. Now the jobs for accountants have really dried up due to all the computer software you can buy now that does your taxes for you but I have carved a niche market out for myself doing the taxes of some wealthy people I met while I was hanging out in my plastic surgeons waiting room. The wealthy always need personal accountants and they trust me, because we were in the trenches together. We saw each other sitting in a doctor's office with stitches and bruises and bloody gauze hanging out our noses. I'm always real up front with these people though and tell them if they try to get me to hide their money to avoid paying taxes and shit like that I will report them. So I just have nice liberal rich people clients and I'm making a good living now.
My gramma loved hearing about my new blossoming life and she truly did end up being my best friend. As I started making more money I took her on some trips. We went to the Grand Canyon and to France to see the Palace of Versailles. She wanted to go to Kenya and see wild elephants and so we did that. I was able to pay her back the money she fronted me for my work done and then some. She supported me through everything and I was very lucky to get to be around her. And if she hadn't died peacefully I would have absolutely helped her end her life. But I didn't have to and I am pretty grateful for that too. Gramma I love you wherever you are. I'm wishing you the best new life wherever you decide to reincarnate next and I'm going to be writing about you next week. I miss you. You had so many good solutions. Thank you.
Copyright © 2013 by Kim Campion
Books for sale on Amazon, iTunes, and Smashwords