Monsanto lied about the toxic effects of Roundup and is now facing over 18,000 lawsuits. Here's a law that would make it much easier to catch companies who lie.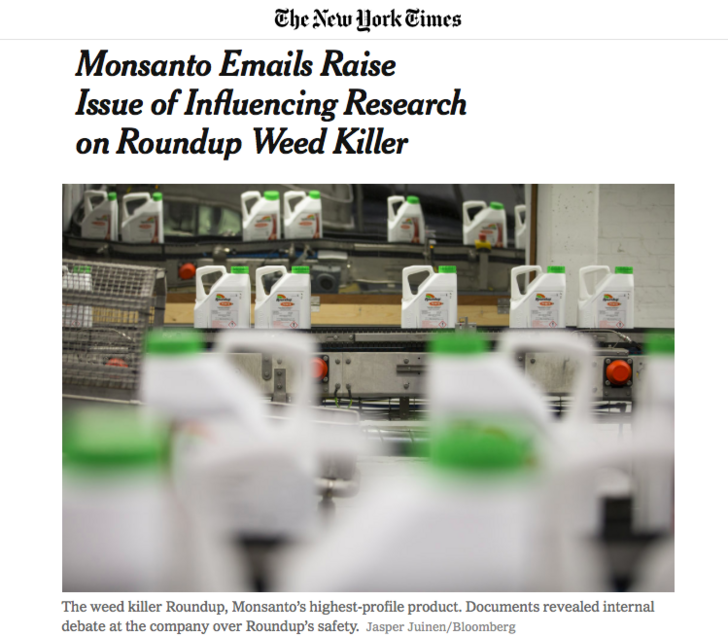 Secret Monsanto documents published by the New York Times revealed suppression of scientific data, collusion with the Environmental Protection Agency (EPA), and how they are paying an army of trolls to lie for them online.
This is the law scientists want: Due to rampant corruption, the pharmaceutical industry is required by law to produce a public registry of all privately and publicly funded clinical trials. This ensures transparency of scientific results.
Scientists want this same law applied to the agribusiness industry. Science would advance quicker and public health would be safeguarded if the agribusiness industry had to produce a public registry of all clinical trials.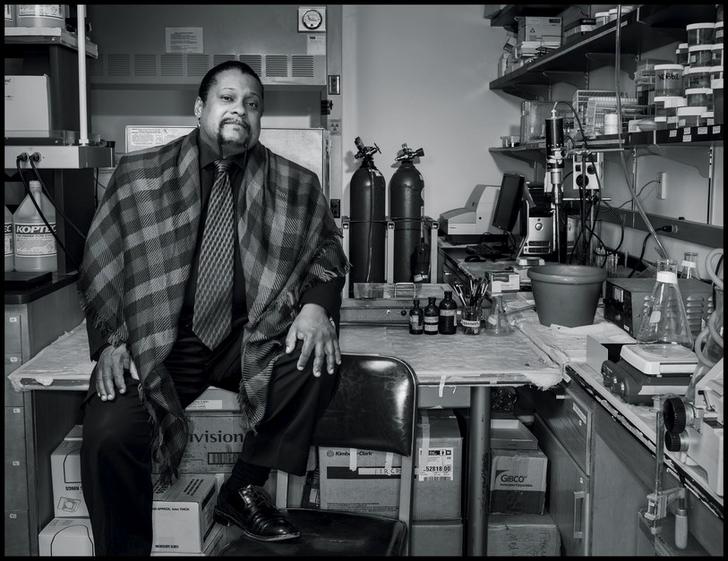 There many agricultural studies regarding pesticides and GMOs that scientists are stating Monsanto and other corporations have attempted to shut down, attack, or bury.
For example, American biologist and professor of Integrative Biology at University of California, Berkeley Tyrone Hayes had his research shut down. "I was approached by the manufacturer [Syngenta] and asked to study the effects of atrazine, the herbicide, on frogs. And after I discovered that it interfered with male development and caused males to turn into females, to develop eggs, the company tried to prevent me from publishing and from discussing that work with other scientists outside of their panel." (source)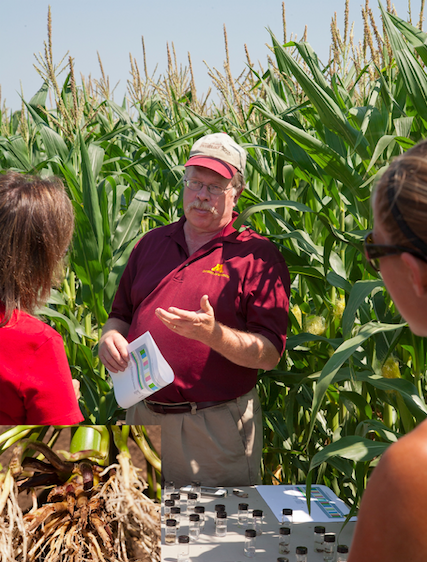 University of Minnesota entomology Professor Ken Ostlie. The New York Times reported on how Syngenta stymied his work. Dr. Ostlie said he had permission from three companies in 2007 to compare how well their insect resistant GMO corn varieties fared against the rootworms found in his state. But in 2008, Syngenta, one of the three companies, withdrew its permission and the study had to stop. "The company just decided it was not in its best interest to let it continue," Dr. Ostlie said. (source)

Monsanto tried to block this Austrian Government Funded research showing GMO corn causes infertility. "A study commissioned by the Austrian Ministry of Health, Family and Youth Affairs and the Ministry of Agriculture, Forestry, Environment and Water Management has found time related negative reproductive effects in mice fed GM maize.
The study, one of the few long-term feeding studies that has been conducted to date, was presented by Prof. Dr. Jürgen Zentek, Professor for Veterinary Medicine at the University of Vienna and lead author of the study, at a recent scientific seminar in Vienna, Austria. The seminar was hosted by AGES, the Austrian Agency for Health and Food Safety.
Monsanto's GMO maize NK603 x MON810 has been approved for planting and food use in a variety of countries, including the US, Argentina, Japan, Philippines and South Africa. In Mexico and the European Union, it is approved for food and feed use." The
Study: http://www.herbogeminis.com/IMG/pdf/biological_effects_in_mice.pdf
Note: The EU Commission criticized some of the study's methodology and said the results were inconclusive. The Austrian Government stood by this study and Monsanto's GMO maize is banned in Austria. The EU Commission has repeatedly pressured Austria to repeal their ban on GMOs. Austria has continued the ban. http://greenbiotech.eu/eu-gm-crops/austria/

Italy's National Institute of Research on Food and Nutrition published a report in the Journal of Agricultural Food Chemistry documenting significant disturbances in the immune system of young and old mice that have been fed Monsanto's GMO corn "MON 810."
This strain of GMO is on the market and in the food supply around the world- cultivation was banned in Italy however, after this study came out. The study was publicly funded and the institute resisted pressure from Monsanto and published it.
The Study: https://pubs.acs.org/doi/abs/10.1021/jf802059w?prevSearch=MON810+immune+system&searchHistoryKey=
A team led by Allison Snow, a plant ecologist at Ohio State University in Columbus, had uncovered preliminary evidence that a transgene that confers insect resistance can increase the number of seeds produced by wild sunflowers. This could allow the wild plants to proliferate as "superweeds." After she she uncovered this evidence, Pioneer Hi-Bred and Dow AgroSciences "blocked a follow-up study by refusing to allow the team access to either the transgene or the seeds from the earlier study." "It is very frustrating," Snow told Nature. "We want to do good science. But this is keeping us from answering questions we want to ask." (source)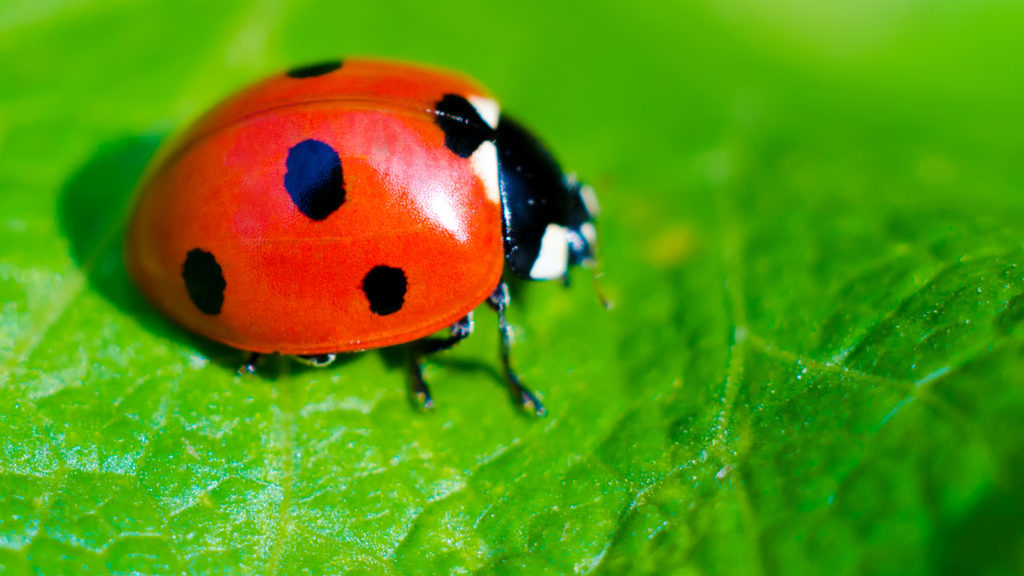 In another case, university scientists working on a GMO corn variety found that it was decimating beneficial ladybugs.
According to an article in Nature Biotechnology, "When the researchers presented their results to Pioneer, the company forbade them from publicizing the data. "The company came back and said 'you are under no circumstances able to publicize this data in any way'," says a scientist associated with the project, who asked to remain anonymous. The research agreement gave Pioneer the right to prevent publication of their results." (source)
This study found that Monsanto GMO Corn MON810 damaged the intestines of rats. "Rats fed GM Bt corn MON810 for only 90 days suffered serious damage to the surface mucous membranes of the jejunum (part of the small intestine), according to a new study.
The type of corn fed to the rats was MON810: Ajeeb YG, a type developed by Monsanto for the Egyptian market.
The study, conducted by Marwa Ibrahim, MD and Ebtsam Okasha of the Faculty of Medicine at Tanta University, Egypt, was published in the journal "Experimental and Toxicologic Pathology."
Ibrahim and Okasha noted that there were no obvious signs of ill health or altered behaviour in the GMO-fed rats. This is perhaps not surprising, given the relatively short 90-day duration of this feeding study. Nonetheless, the animals were sick, as revealed by the histopathological examination of the gut tissues. The researchers concluded that "consumption of GMO-corn profoundly alters the jejunal histological [microscopic] structure".
MON810: Ajeeb YG was put on the market in Egypt in 2008.
The Study: https://www.ncbi.nlm.nih.gov/pubmed/27769625
As the Monsanto Papers release has shown, conflicts of interest within government regulatory agencies also need to be examined.
In 2005, the USDA overrode a federal judge's orders and moved to allow farmers to plant Monsanto's GMO sugar beets before an environmental impact study was even completed.
Then in 2011, the USDA announced that the GMO industry could conduct its own environmental impact studies, or pay other researchers to. (source)
tl/dr: A big step in the right direction is to pass a law that the agribusiness industry be required to produce a public registry of all clinical trials- just like the pharmaceutical industry already has to.