Scientific Studies Finding GMO's Harmful To Health

"A decade-long project to develop genetically modified peas with built-in pest-resistance has been abandoned after tests showed they caused allergic lung damage in mice.
The researchers – at Australia's national research organisation, CSIRO – took the gene for a protein capable of killing pea weevil pests from the common bean and transferred it into the pea. When extracted from the bean, this protein does not cause an allergic reaction in mice or people.
But the team found that when the protein is expressed in the pea, its structure is subtly different to the original in the bean. They think this structural change could be to blame for the unexpected immune effects seen in mice.
The work underlines the need to evaluate new GM crops on a case-by-case basis, says Paul Foster of the Australian National University in Canberra, who led the immunological work. He also calls for improvements in screening requirements for genetically engineered plants, to ensure comprehensive tests are carried out….
Further investigations by Foster's team revealed slight differences in the molecular structure of the protein when it was expressed in the bean and in the pea. They think this was caused by differences in the way the two plants produce proteins – particularly in a step called glycosylation, which involves adding saccharides to the protein.
"When expressed in the pea, the protein was glycosylated at different points – that's the only structural change we've been able to identify so far," says Foster.
He adds that slight differences in protein synthesis might also occur in other plants with other genes, meaning each new GM food should be very carefully evaluated for potential health effects. "If a GM plant is to go up for human consumption, there should be a detailed descriptive list of how one should go about analysing that plant," he says.
Tager agrees. It is rare for an investigation of the potential health effects of a GM product to be published in a peer-reviewed journal, he adds. "If it had been a private company doing this, it might never have seen the light of day," he says.
source: https://www.newscientist.com/article/dn8347-gm-pea-causes-allergic-damage-in-mice/
https://responsibletechnology.org/genetically-modified-peas-caused-dangerous-immune-response-in-mice/#_edn11
As a result of this study, this particular GMO crop was not allowed to go on the market.

Study Finds GMO Corn Disturbs Immune System of Mice
Italy's National Institute of Research on Food and Nutrition recently published a report online in the Journal of Agricultural Food Chemistry (read study here) documenting significant disturbances in the immune system of young and old mice that have been fed the genetically modified corn MON 810.
The study evaluated the gut and peripheral immune response to corn in mice in vulnerable conditions-either very young or old. Weaning and old mice were fed a diet containing GM MON810 or its parental control corn or a pellet diet containing a non- GM corn for 30 and 90 days. MON810 maize induced alterations in the percentage of T and B cells and of CD4+, CD8+, γδT, and αβT subpopulations of weaning and old mice fed for 30 or 90 days, respectively, at the gut and peripheral sites. An increase of serum IL-6, IL-13, IL- 12p70, and MIP-1β after MON810 feeding was also found. These changes were not detected in the mice fed the non-GM diet.
The researchers said that the study's findings underscore the importance of considering the gut and peripheral immune response to GM crop ingestion as well as the age of the consumer when evaluating GM crop safety.
A press release issued by the Institute of Science in Society stated, "It is clear that genetic modification is inherently hazardous, as it invariably results in unpredictable and uncontrollable changes in the genome and the epigenome (pattern of gene expression) that impact on safety."
Source: https://www.organicconsumers.org/scientific/study-finds-gm-corn-disturbs-immune-system-mice
The Study: https://pubs.acs.org/doi/abs/10.1021/jf802059w?prevSearch=MON810+immune+system&searchHistoryKey=
This strain of GMO is on the market and in the food supply around the world- cultivation was banned in Italy however, after this study came out. MON 810 contains an inserted gene from the Bacillus thuringiensis which produces the Bt toxin that is poisonous to insects. This means the plant produces insecticide inside itself. https://en.wikipedia.org/wiki/MON_810

Monsanto Tried to Block Austrian Government Funded Research Showing GMO Corn Causes Infertility
"A study commissioned by the Austrian Ministry of Health, Family and Youth Affairs and the Ministry of Agriculture, Forestry, Environment and Water Management has found time related negative reproductive effects in mice fed GM maize.
In one study design where mice were continuously breeding, more mice fed on GM maize NK603 x MON810 had no litters or produced less offspring after the third or fourth litters, than those fed on conventional maize. The differences were statistically significant.
Similar results were obtained in a multi-generational study, where the parental generation was fed with either GM or non-GM maize and successive generations bred. Although the differences did not reach statistical significance in any one generation, the trend was clear – average litter size and weight as well as number of weaned pups were better in mice fed non-GM maize.
The study, one of the few long-term feeding studies that has been conducted to date, was presented by Prof. Dr. Jürgen Zentek, Professor for Veterinary Medicine at the University of Vienna and lead author of the study, at a recent scientific seminar in Vienna, Austria. The seminar was hosted by AGES, the Austrian Agency for Health and Food Safety.
According to Greenpeace, Monsanto's GM maize NK603 x MON810 has been approved for planting and food use in a variety of countries, including the US, Argentina, Japan, Philippines and South Africa. In Mexico and the European Union, it is approved for food and feed use."
source: https://www.organicconsumers.org/scientific/monsanto-tried-block-austrian-government-funded-research-showing-ge-corn-causes
The Study: http://www.herbogeminis.com/IMG/pdf/biological_effects_in_mice.pdf
Note: The EU Commission criticized some of the study's methodology and said the results were inconclusive. The Austrian Government stood by this study and Monsanto's GMO maize is banned in Austria. The EU Commission has repeatedly pressured Austria to repeal their ban on GMOs. Austria has continued the ban. http://greenbiotech.eu/eu-gm-crops/austria/

Monsanto GMO Corn MON810 Damaged The Intestines Of Rats
"Rats fed GM Bt corn MON810 for only 90 days suffered serious damage to the surface mucous membranes of the jejunum (part of the small intestine), according to a new study.
The type of corn fed to the rats was MON810: Ajeeb YG, a GM version of Ajeeb, a locally adapted variety of corn grown in Egypt. MON810: Ajeeb YG was developed by Monsanto for the Egyptian market. The GM-fed rats ate a diet containing 30% of MON810: Ajeeb YG corn. Control rats were fed the same amount of non-GM corn.
In the GM-fed rats, some areas of the villi – finger-like structures in the intestine that absorb nutrients from food – were damaged. They were distorted and flattened, with some cells joined together. The damage can clearly be seen in the images included in the study. The crypts (mucosal glands) were disrupted and blood vessels were congested. Signs of inflammation – white blood cell infiltration – were seen around areas of damage. In addition, the cells of the intestinal lining were abnormal in structure.
Other signs of damage included increased shedding of mucosal cells, increased numbers of mucous-secreting goblet cells, and higher rates of division of cells lining the crypts.
The study, conducted by Marwa Ibrahim, MD and Ebtsam Okasha of the Faculty of Medicine at Tanta University, Egypt, was published in the journal Experimental and Toxicologic Pathology.
The researchers concluded that "consumption of GM-corn profoundly alters the jejunal histological [microscopic] structure".
source: https://responsibletechnology.org/monsanto-gm-corn-mon810-damaged-intestines-rats-new-study/
The Study: https://www.ncbi.nlm.nih.gov/pubmed/27769625

This study shows that GMO potatoes damage the intestines of mice: https://www.ncbi.nlm.nih.gov/pubmed/10441029
This particular strain of GMO is not on the market. But similar ones using the same type of GMO are.
Here is a fascinating analysis of Bt toxin GMO's: https://www.gmoscience.org/is-bt-toxin-safe/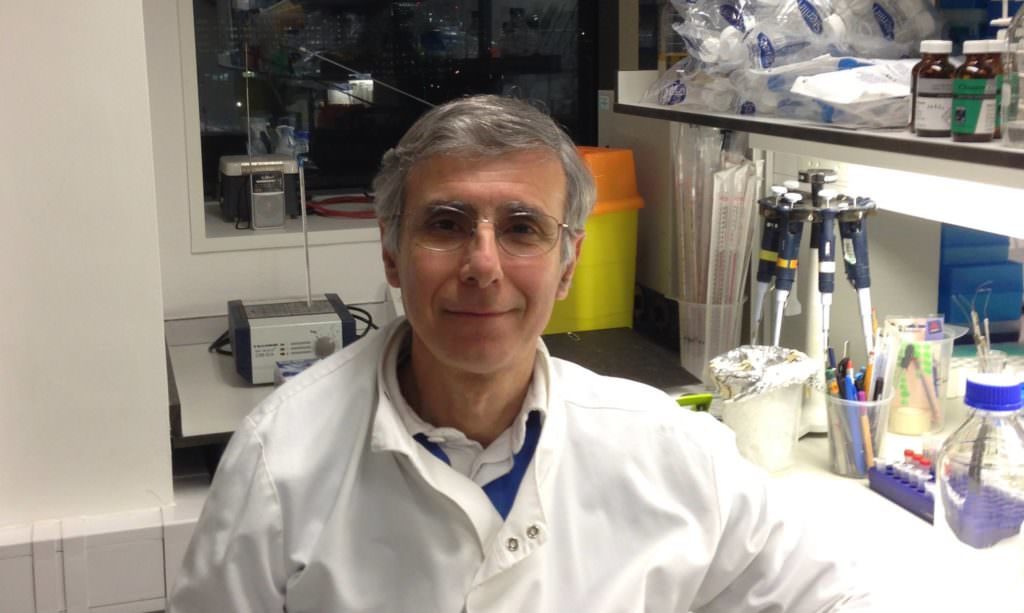 Dr. Michael Antoniou is the Head of the Gene Expression and Therapy Group at King's College London in the United Kingdom, one of the most prestigious universities in the UK.
In 2017 he released a peer-reviewed study in "Scientific Reports" which found that a genetically modified corn, NK 603, was not substantially equivalent to a non-GMO counterpart, which is contrary to claims of GMO proponents. https://www.nature.com/articles/srep37855%C2%A0
He did a separate study on the effects of Monsanto's Roundup herbicide , which established a causative link between an environmentally relevant level of daily ingestion of Roundup and a serious disease, non-alcoholic fatty liver disease. https://www.nature.com/articles/srep39328
Here's him discussing the studies in detail and how he was attacked for it by GMO corporate interests: http://non-gmoreport.com/articles/scientists-ground-breaking-research-uncovers-new-risks-gmos-glyphosate/

Studies Link GMO Animal Feed to Severe Stomach Inflammation and Enlarged Uteri in Pigs
"GM-fed pigs had a higher rate of severe stomach inflammation with a rate of 32% of GM-fed pigs compared to 12% of non-GM-fed pigs (p=0.004)."
The study: http://www.organic-systems.org/journal/81/8106.pdf