The Eyeglasses Monopoly (and how to get affordable ones)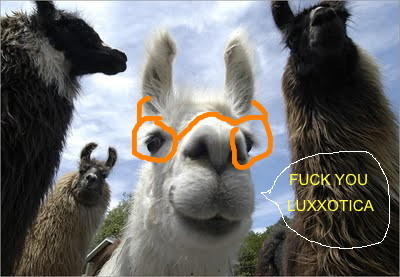 Here's why eyeglasses are so expensive: Luxottica is a full-on monopoly that the Federal Trade Commission should have taken down years ago. There used to be anti-trust laws for behemoths like this corporation. These trust busting laws must be brought back.
Luxxotica owns almost all designer eyeglasses brands including Gucci, Prada, Ray Ban, Oakley, Polo Ralph Lauren, Versace, Chanel, Paul Smith, Vogue, Oliver Peoples, and many more.
They also own most retail channels: Lenscrafters, Pearle Vision, Sears Optical, Target Optical, Sunglass Hut, and Oliver Peoples.
They even own the second largest vision insurer, Eyemed.
And they are scumbags. Other companies have no negotiating room, and when they do try to compete, Luxottica refuses to sell their brand at their stores, and then buys them out after their stock sinks, as they did with Oakley (they stole that company and took it for 2.5 billion).
So not only do they manufacture a large majority of the glasses (their CEO estimated that at least half a billion people own a pair they made) – they also set the prices. Eyeglasses really only cost a couple bucks to make. Luxxotica makes sure you're paying hundreds of dollars for those pieces of plastic.
Here's the solution:
The best and cheapest thing is to shop online. I was afraid to do this at first but if you have an eyeglasses prescription (which you can get anywhere for 50-60 bucks) then you can buy some lovely frames. I just bought some nice ones for 20 bucks on zennioptical.com (I am not affiliated with them in any way but I am recommending them because their site was easy to shop from, they have good customer service and I was able to speak to a human when I needed help, and they had the most angles and measurements and pictures of the product.) There are a lot of other good online shops though.
I got really good lightweight fancy high index lenses for only an extra 20 bucks. So, brand new glasses with the fancy lenses cost me forty bucks (48 total after shipping and tax). Their regular plastic prescription frames are free with the purchase of frames and some frames were as low as $6.95. So you could get prescription glasses for seven bucks! This way Big Monopoly Luxxotica won't be scammin ya.
Also: Read this article on the dangers of Lasik eye surgery 
Also: Why you should never wear contact lenses