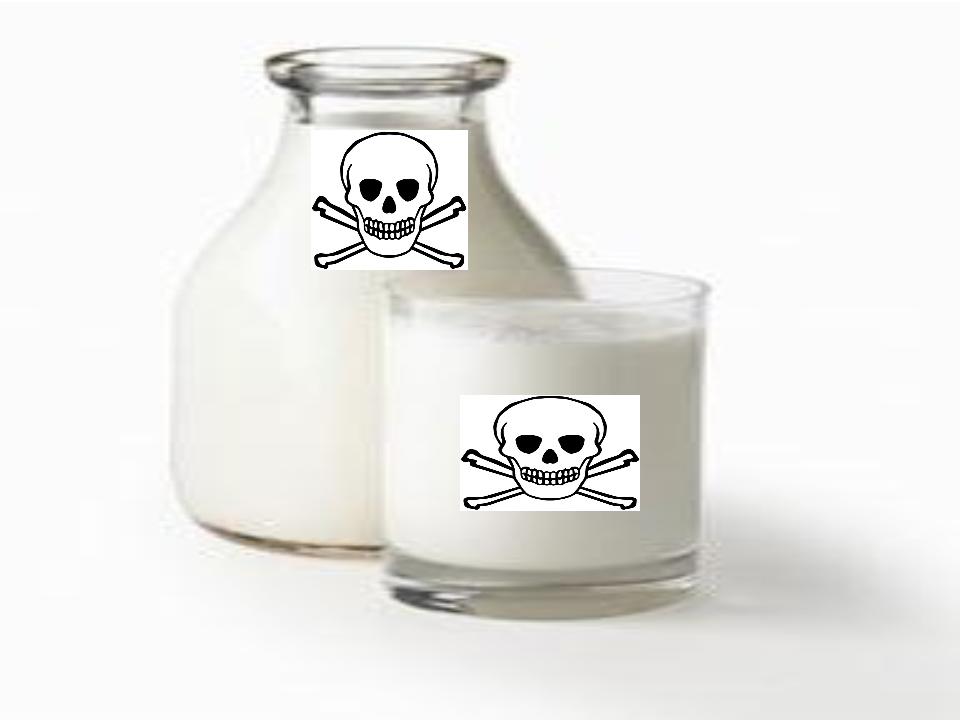 Why Dairy Can Be Toxic
Milk is a major cause of acne, and lots of other diseases but especially cancer. See, cancer can be caused by a lot of things but it's the human growth hormone called Insulin Growth Factor-1 that is the number one cause of tumor growth, and has been identified as the key factor in breast cancer, lung cancer, prostate cancer, and others. And this is amazing but get this: this growth hormone in a cow's body and in a human body is identical.
Out of 4,700 different species of mammals and hundreds of millions of different proteins found in nature, there's only one hormone in the entire animal kingdom that is identical between two species — human and cow Insulin Growth Factor-1. And all the countries that eat the most dairy have the highest rates of cancer. They are drinking a substance that is supposed to help a baby cow grow and instead it can help tumors grow.
Another thing they do is homogenize milk (whip it up real hard so the fat globules become very tiny and stay suspended in the fluid without separating back into bigger chunks of fat that rise to the top as cream). The newer tinier fat globules surround the growth hormone molecules and make it harder for the body to process the growth hormone. The body can process and destroy this deadly Insulin Growth Factor-1 hormone in raw milk in like a second. It takes the body a full 30 minutes to process the harmful hormones in pasteurized milk.
There is enough growth hormone in organic cow milk for it to be bad, and then they add even more hormones to the poor factory farm cows that they treat so horribly. That's a whole other part of this, how cruel factory farming is. It is so bad for the cows and it is bad for the environment and our health. But even an organic cow's milk is not good for us. And it's cruel to make an animal lactate for years on end. It's hard on their bodies and it's physically uncomfortable.
Big dairy eaters also have the highest rates of osteoporosis. The truth is, you hardly get any calcium from milk, because the body has to actually burn its own reserves of calcium to break it down- your bones actually get weaker if you ingest it. When milk was raw it probably wasn't as bad because it had live enzymes that helped digest the milk's calcium but now it's pasteurized and the enzymes are all dead.
Dairy proteins are also potent allergens, this is why a lot of folks get bloated and all mucousy in the back of their throats after they drink it. You can ask any singer, they won't touch milk before a performance.
And you get zits from it because they milk cows who are about to give birth, and that "pregnant" milk has all kinds of special hormones in it like estrogen and progesterone and melatonin and of course those extra hormones are going to throw your own hormones out of wack and give a lot of people zits. The solution is to minimize or stop dairy.
Here's a method that works for a lot of people. The cells that cause you to be allergic to dairy die every three days. So to be safe, add an extra day to that. So what you an do is eat dairy for three days in a row if you want, then give you body four days for the cells that have become allergic to die. This will prevent a lot of dairy related health problems.
Also stinky cheese is a safer form of dairy to consume because it has so many live enzymes and probiotics swarming in it that help your gut. And of course raw unpasteurized dairy is much safer to consume than pasteurized.
Dairy is something that can be very toxic in large amounts but if eaten in moderation and only three days a week these bad effects can be avoided. Follow the four day off method, you will notice a big difference in your health.
And we are going to see more and more good organic plant-based dairy-alternatives coming out.
p.s. Another way a dairy allergy can manifest is having a slightly swollen neck area, where one's chin and jowls can look puffy. If you do the four day off suggestion, you will notice your neck and lower face area will become less puffy.
p.p.s. Allergic reactions to non-human milk is almost certainly a major cause of Sudden Infant Crib death (SIDs). Below is more detail.
More Info
I learned a lot of this online from Dr. Robert Cohen, who's a doctor trying to get people off dairy. He even cites Dr. Spock, whose book on child rearing has only been outsold by the bible. Dr. Spock has been saying all these years that humans should not drink milk from other species.
Here's more info:
The following is an excerpted interview with Dr. Robert Cohen, author of "Milk, the Deadly Poison," and www.Notmilk.com. Mike Adams is the interviewer.
Mike: What is it that drove you to have this kind of interest and energy to pursue the truth about milk and dairy products?
Dr. Cohen: Three little girls named Jennifer, Sarah, and Lizzie — my daughters. I wanted them to have healthy bodies. I wanted them not to live four years of high school life with zits all over their body like their dad did. And you know something? They've been zit free! No acne, and if you look at my book, Milk A to Z, I take every letter of the alphabet and fill in something about milk. Z is for zits, and we know that these cows are actually being milked before they give birth, and that milk is different milk — it's milk instructing mammary tissue to grow. Little girls have changed these days, but we find that with the secretion of all of these androgens, the cows are constantly using the androgens to produce other hormones. Teenage acne is improved the second we give up milk. It takes a couple of weeks, and the acne's gone. And these androgens stimulate the sebaceous glands, which are the glands that cause the acne, cause the zits.
So we find a dairy link to a number of human conditions. And I'm not the first to say this — Dr. Spock said this. Dr.Spock sold 75 million copies of his book on child care. The only book that sold more than Dr. Spock's book in history is the Bible. Dr. Spock said that no human, no child, no adult needs cow's milk — it's a deception on the government's part to promote. And we're learning, as I've said, more doctors are learning today something they were not taught in medical school. You want to look at the etiology of allergies and diabetes? You look at diabetes, you look at the New England Journal of Medicine, July 31, 1992 — right there, you can look it up! It said that exposure to these bovine proteins, bovine serum lactobumin is a trigger for insulin-dependent diabetes mellitus, and a few months later, October of '92, Scientific America talked about the dairy slogan,"Milk, it does a body good." It said, "Milk, it does a body good — it sounds a little hollow these days."
Mike: Can you give a brief summary of — you've mentioned a few here,diabetes and acne, heart disease is mentioned in your book quite prominently — but what other chronic diseases are, say, aggravated or even caused by chronic milk consumption?
Dr. Cohen: Well, you know, that's an interesting question. Let's look at the Big Five — in America, the number one killer is heart disease, and then we've got osteoporosis and cancer, and diabetes and asthma. We look at nations where they drink milk, we find these diseases are common. We look at nations where cheese consumption has tripled in the last 30 years, like England and France and Canada and the United States, we find also a tripling of asthma and breast cancers. Guess what country has the highest rate of breast cancer? Number one in breast cancer rate, Denmark, followed by Norway, followed by Holland, followed by Sweden — are you detecting a trend?…
Bone disease, heart disease, breast cancer — see where are we going with this? –highest rates of dairy consumption. We're seeing absolute correlations between these diseases and dairy consumption, and I can give you the reason. We have much more than just national epidemiological studies — we have mechanisms by which these diseases occur, in breast cancer and every cancer, thousands of things cause cancer. Every time we pickup a newspaper there's a new thing identified as causing cancer
But thousands of things cause it — once you get it in your body, one thing makes it grow, and the one thing that makes it grow is the most powerful growth hormone you make in your body called insulin growth factor. And remarkably, the greatest miracle of science, of nature, is that this hormone in a cow's body and in a human body is identical. As a matter of fact, out of 4700 different species of mammal and hundreds of millions of different proteins in nature, there's only one hormone in the entire animal kingdom that is identical between two species — human and cow IGF-1,which has been called the key factor in the growth and proliferation of breast cancer, lung cancer, prostate cancer, every human cancer.
Now of course, the dairy industry says that all of these hormones are destroyed through pasteurization and they don't get absorbed by humans who consume their products. We know that's not true, but why is that? In the case of this hormone, IGF-1, your body is constantly making it,and it's broken down very rapidly, or bound to other protein receptors. But in the case of cow's milk, we've improved upon nature — we have cow's milk where normally these proteins are gone very rapidly. We homogenize milk – in other words, we take the milk and make the fat molecules between 10 and 100 times smaller. We make many more of them — a pint of milk can contain a trillion tiny fat molecules. They envelop and protect these hormones, which naturally, most of them are destroyed. So now we have a mechanism by which we double the amount of this powerful growth hormone in your body, and where it usually is broken down in less than a second or two, it now remains active for up to 30 minutes. When it finds an existing cancer, which is also common, that is the turn-on mechanism. And that's why the nations that are drinking the most milk today and eating the most cheese are the ones with the highest rates of every human cancer.
Mike: Let's just clarify for the consumers out there which products have these hormones in them. Because it's not just liquid milk. It's everything that's dairy, right?
Dr. Cohen: Yeah, that's right! Everything that's dairy. You've got liquid milk in cheese, and sour cream, and butter. That's what milk is. When you use 21 pounds of milk to make a pound of butter, or 10 pounds of milk to make a pound of hard cheese, or 8 pounds of milk to make a pound of sherbet… you're concentrating the hormones… That's what milk is, and that's what these dairy products are — concentrated milk products. If you've got one unit of something bad, you don't want to have ten units of it concentrated.
Mike: Indeed. There have been companies, of course, independent dairy producers, who have been producing milk, and putting right on the label that this is produced without bovine growth hormones.
Dr. Cohen: But there's really no difference to me between the bovine growth hormone, which has been genetically engineered,and the naturally occurring growth hormone. It's all the same.
[Note: I don't agree with this at all- there is no way that artificial growth hormone isn't more toxic than whatever comes in organic natural milk. One other thing I should point out where Cohen is also wrong is he believes that animal protein causes cancer. Meat is something that the vast majority of humans require in order to be healthy, it's just the facts. They have incisors for goodness sakes. The canines of a carnivore. Again, though, maintain an open mind because the vast majority of what this guy says about dairy is right on].
Mike: I've recommended to readers they take a 30-day no-dairy test. Seven days is also plenty, if you're aware of your body, to see the difference, but what can people really expect to change. You've mentioned some of the things, but what about the long-term health improvements? If someone gives up milk, what can they expect to happen in a month or in a year?
Dr. Cohen: Well, you know, it's interesting you ask that question, because the Townsend Medical Letter, which is a doctor's letter written by doctors for doctors, over 180,000 get it, in the May of 1995 issue, they talked about cow's milk, the symptoms,that they've been linked to a variety of health problems — mucus production,hemoglobin loss, allergies, and numbers 8, 9, and 10 on their list were moodswings, depression, and irritability. Now, you think about people who have mood swings, depression and irritability, and many people blame it on Epstein-Barr virus, being middle-age crisis prone.
Mood swings, depression and irritability — you take bovine estrogen every day, with bovine progesterone and bovine melatonin and all of these different female hormones that are coming from pregnant cows, and it's going to mess you up. I can't even tell you what it's even going to do to you. But I know that we become very hormonal, depressed, mood swings, depression and irritability — give it up. It really is an easy solution. You can spend thousands of dollars with your doctor, and take all sorts of medication, andgive kids Ritalin, but there's no need for it! Just go to not milk — completely dairy-free.
Mike: Right! It is amazing — so often, people go to their doctor and they get drugs, just to mask the symptoms caused by simple dietary choices.
Dr. Cohen: And they teach the doctors none of this in medical school, although many of them are learning on their own. They're learning because they go with their patients and they say, "Stay off the milk for a while." And they do, and they get dramatic results, especially with attention deficit disorder, autism — we're seeing such dramatic changes in children who go completely dairy-free.
Mike: What about the long-term prevention of chronic disease?
Dr. Cohen: There's a place on this planet where they have more people living over age 100 than anywhere else, where the average woman lives to age 86, where people don't even need x-ray machines because they don't get breast cancer osteoporosis. That place is 160 islands between Japan and Taiwan called Okinawa. Now the book was written by Wilcox and Suzuki called "The Okinawa Plan," and you read that these people are eating 1/20th the amount of calcium that we do, yet they don't get bone breaks.
And you'll read the analysis of calcium intakes all over the world — South Africa they're eating under 100 milligrams a day, in America 980, and yet we have 14 times the rate of pelvic fractures.
Mike: And yet most Americans think if you have fragile bones or the symptoms of osteoporosis, you have to drink more milk!
Dr. Cohen: Which is accelerating the bone loss.
Mike: Let's talk about infant mortality with cow's milk too…
Dr. Cohen: Well, it's interesting you mention that. The American journals really don't like to pick on the dairy industry, and reject many of these articles, but we find, there's a really great journal, one of the world's respected journals, called the Lancet, the British journal. And the Lancet, June 4, 1994, I believe it was, they published a study on sudden infant death syndrome showing that the lung tissue in the cells shows bronchial inflammation similar to asthma from dairy proteins. So children are having their last meal before they die, and what it is, is a bottle of cow's milk formula. And the children fed cow's milk — the Lancet since 1960has been doing a series of articles on sudden infant death and showing that hypersensitivity to milk protein is implicated as a cause of sudden infant death syndrome.
Mike: And what about goat's milk?
Dr. Cohen: Each day, I receive hundreds of email inquiries, and I can always count upon receiving at least one question regarding goat's milk. On October 10th (Section 14, page 14), the New York Times promoted goat's milk as an alternative for those who cannot tolerate cow's milk. "To Find Goat's Milk and Cheese, Find Some Goats." The author of that story, Joseph D'Agnese, wrote: "If your body can't tolerate cow milk, goat's milk often makes a suitable alternative." Such a statement might very well be considered medical advice,and could result in a deadly prescription for one or more NY Times readers.
Scientific research suggests goat's milk can be just as dangerous for some consumers as cow's milk. A team of European scientists led by Dr. Luisa Businco in Rome concluded that goat's milk is unsafe for infants with cow's milk allergy. Their study was published in the Journal of Allergy and Clinical Immunology, June 1999; 103:1191- 1194. The scientists reported: "The children had positive skin test response to both cow's milk and goat's milk." During oral tests in which children swallowed small amounts of goat's milk, 92% of the children experienced allergic reactions. Eighty percent of the protein in cow's milk is casein, a tenacious glue and powerful allergen. The authors of this study report that goat and cow's milk "share 87 percent to 98 percent ( of the) identical amino acids" that make up the proteins responsible for milk allergies.