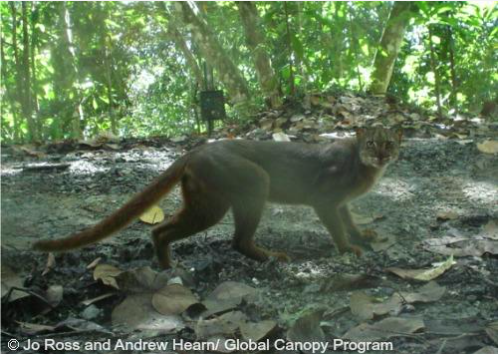 Bay Cat
Kingdom: Animalia
Phylum: Cordata
Class: Mammalia
Order: Carnivora
Family: Felidae
Subfamily: Felinae
Genus: Catopuma (Total members of this genus: Bay cat, Asian Golden cat)
Species: Catopuma badia
The Bay Cat is the mystery member of the cat family. Next to nothing is known about them. The Bay Cat is found only on the island of Borneo. Borneo is the third largest island in the world and is in Southeast Asia. The island is divided among three countries: Brunei and Malaysia on the north, and Indonesia to the south.
Borneo Cats are about the size of a long-bodied housecat and are generally grayish or reddish.
The Bay Cat lives along the edge of deep dense tropical jungles by riverbanks or rocky outcroppings. Their survival is wholly dependent on the presence of healthy rainforest. These cats are incredibly rare and hadn't even been photographed until 1998. (1)
As of 2015, the IUCN lists the Bay Cat as Endangered. There is hope though, more and more people are taking action to preserve the precious rainforest and thus all its inhabitants.