Wild Cats: The Clouded Leopard and the Sunda Clouded Leopard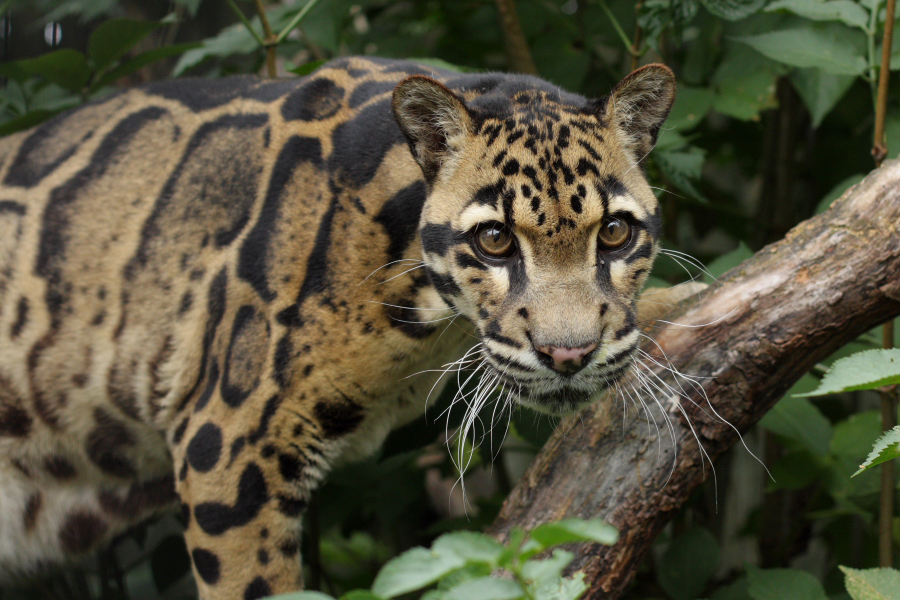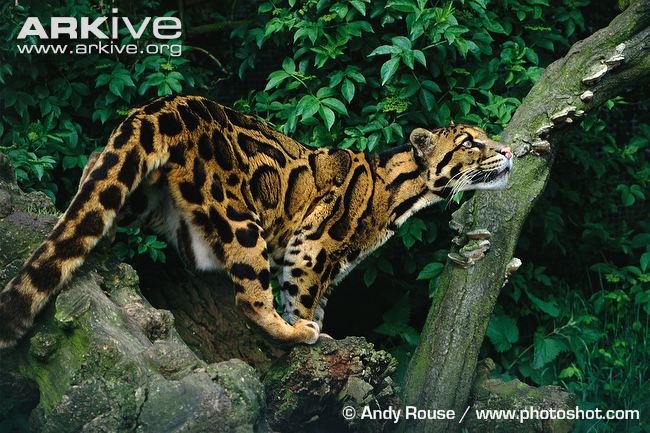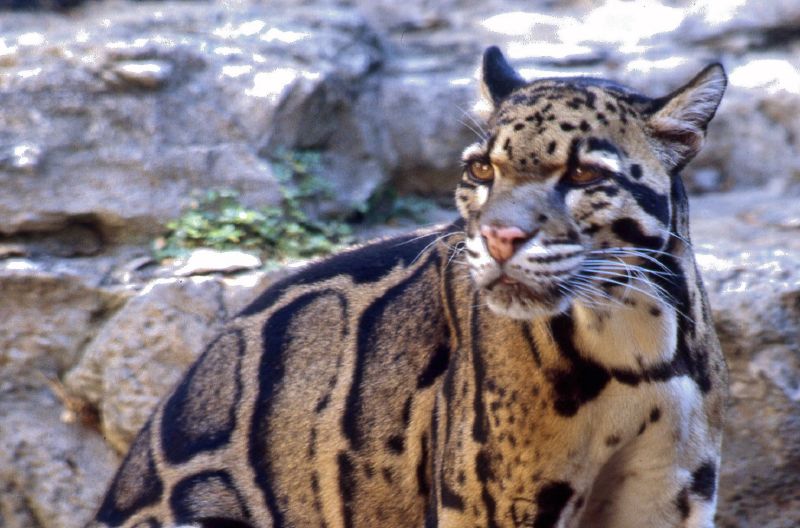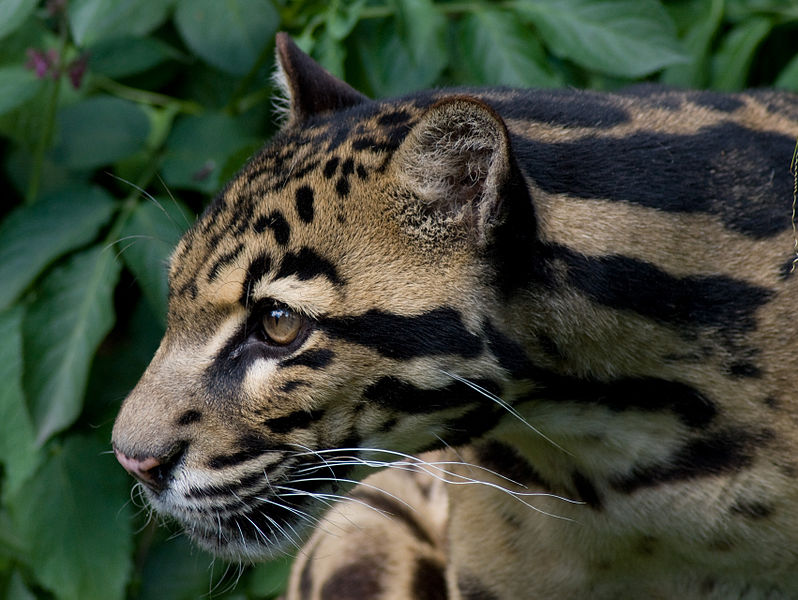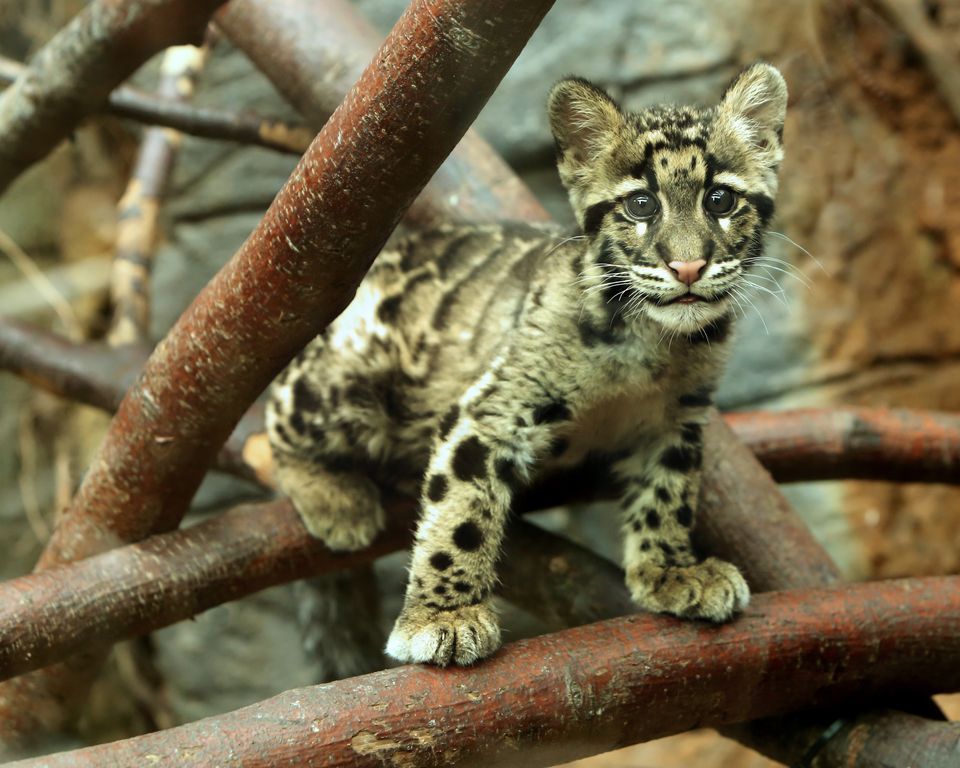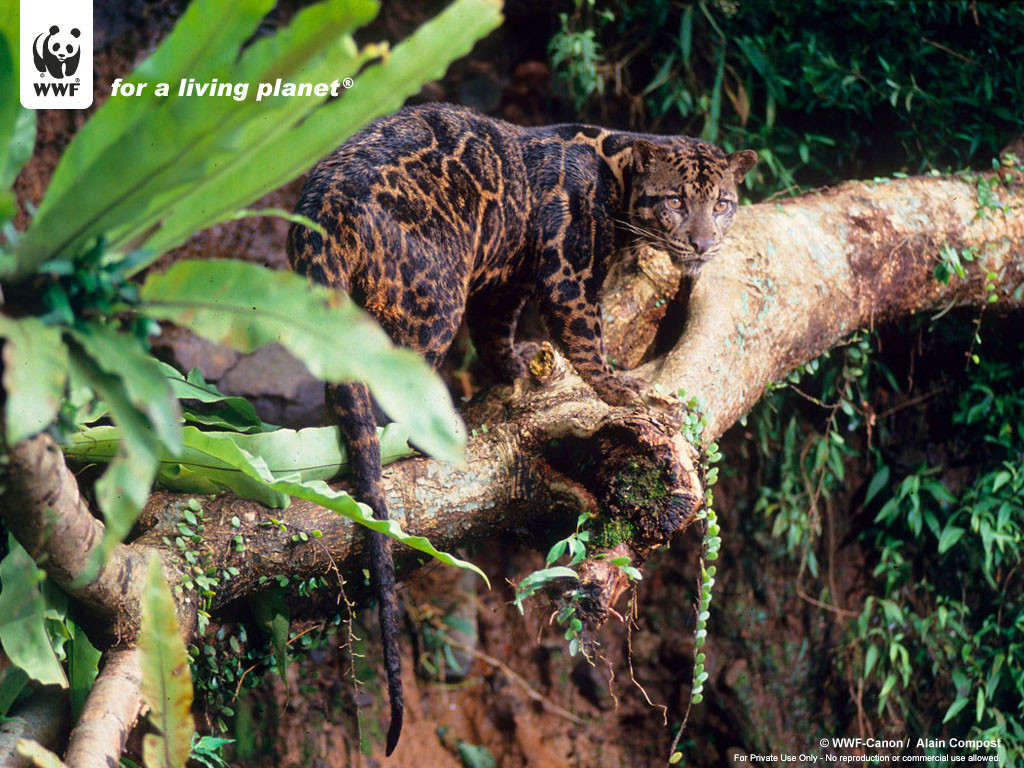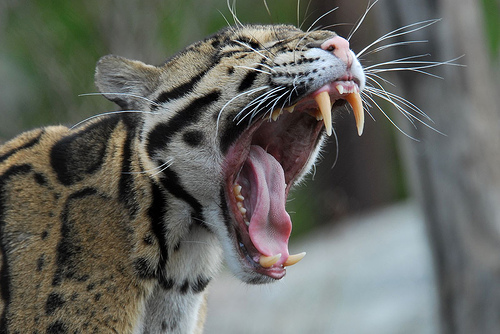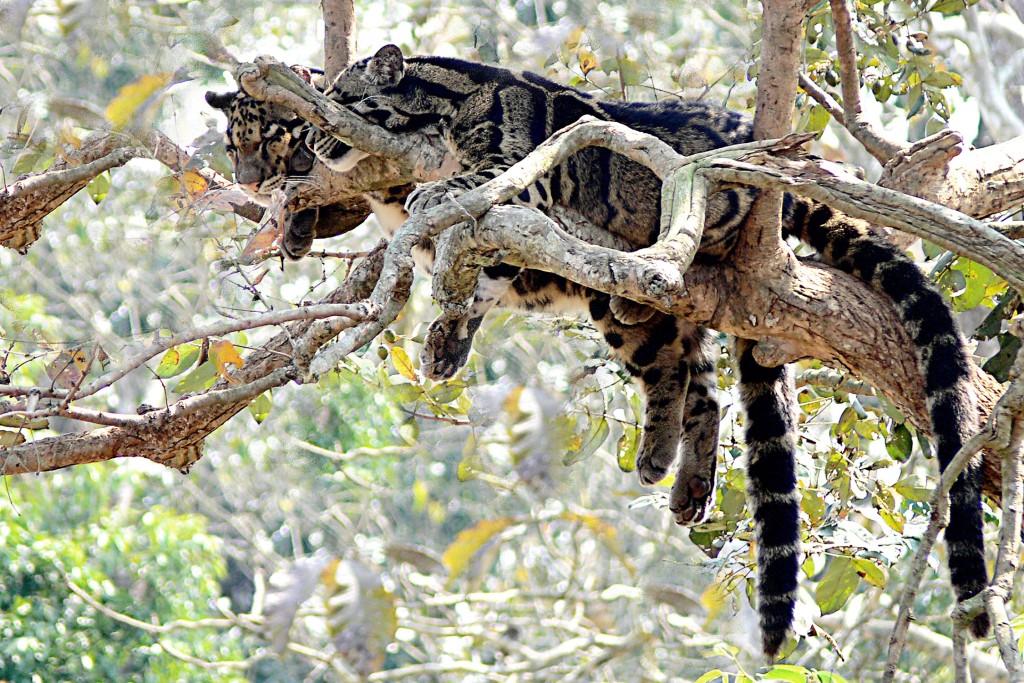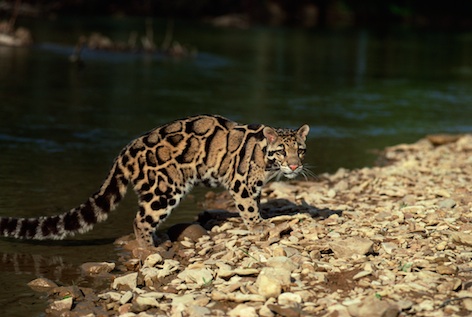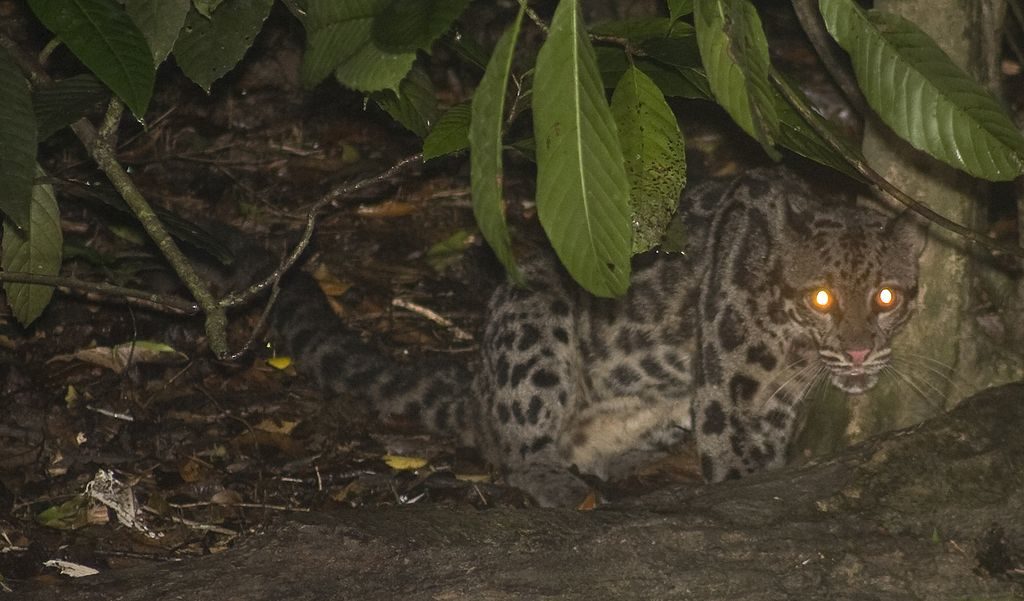 Sunda Clouded Leopard, Borneo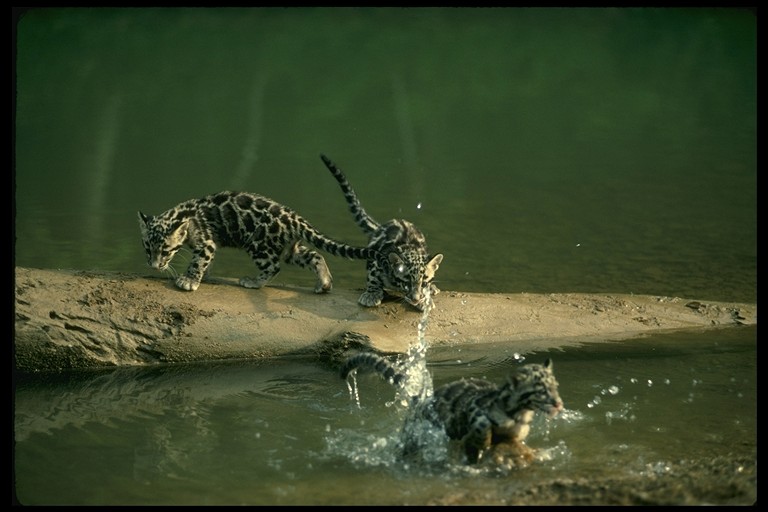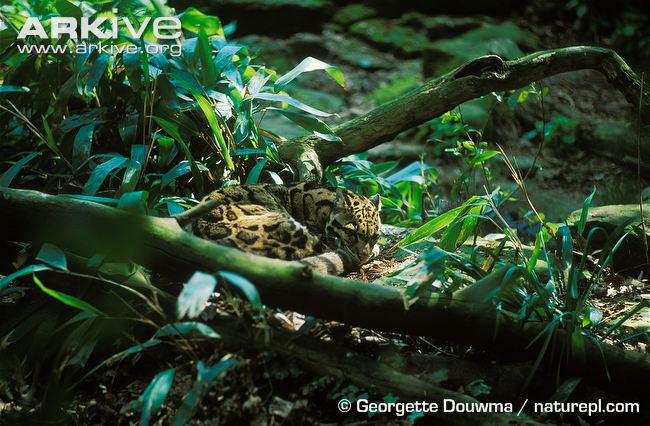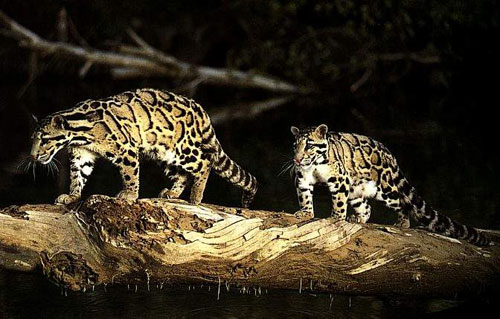 Clouded Leopard 
Kingdom: Animalia
Phylum: Cordata
Class: Mammalia
Order: Carnivora
Family: Felidae
Subfamily: Pantherinae
Genus: Neofelis (Total members of this genus are the Clouded Leopard and the Sunda Clouded Leopard)
Species: Neofelis nebulosa (Clouded Leopard)
Subspecies:
Neofelis nebulosa macrosceloides, which is found in western mainland Asia as far west as Nepal
Neofelis nebulosa nebulosa, which occupies eastern mainland Asia
Neofelis nebulosa brachyuran, which occurs on Taiwan, but is now likely to be extinct
Species: Neofelis diardi (Sunda Clouded Leopard)
Subspecies:
Neofelis diardi borneensis- Borneo
Neofelis diardi diardi-Sumatra
The Clouded Leopards — two of the most elusive of all the big cats — make up the group known as genus Neofelis. They are named for the beautiful patches on their fur said to be shaped like clouds. And they are alsonknown for having the largest canine fangs relative to their body size. This means they have bigger fangs proportionally than any living cat- or indeed, any other living carnivore. "They're sometimes even called modern-day saber-toothed cats," says wildlife biologist Andreas Wilting (1).
The Clouded Leopard lives in Mainland Asia- from the Himalayan foothills all the way through Southeast Asia and into China.
The Sunda Clouded Leopard lives only on two Indonesian islands: Sumatra and Borneo. Most researchers believe the Borneo/Sumatra population of Clouded Leopards likely diverged from the mainland population some 1.4 million years ago. DNA tests highlighted around 40 nucleotide differences between the two species. Lions and leopards, for instance, have 56 nucleotide differences. (2) Some scientists believe the Clouded Leopard and the Sunda Clouded Leopard should be considered two separate and distinct species.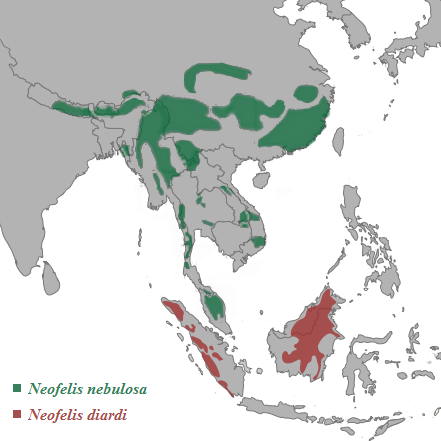 Both Clouded Leopard species are the smallest of the big cats. They are not closely related to the leopard or any of the other big cats. Clouded leopards are excellent climbers. Their ankles can rotate backward which allow them to climb branches upside down, descend trees headfirst, and even hang from their hind feet. They have large paws with long, sharp claws which help Clouded Leopards to climb trees with ease. Clouded leopards have unusually short legs and extra long tails to help them navigate through the trees. They are indeed, a pseudo arboreal (tree dwelling) species. They eat monkeys, cattle, pigs, rodents, goats, deer, and porcupines.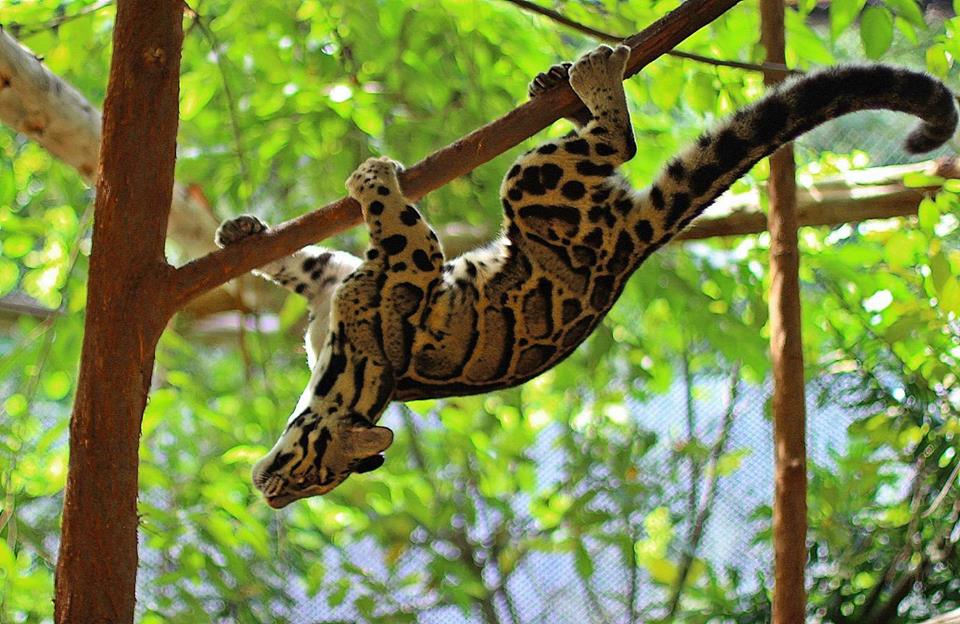 The Clouded Leopard is gorgeous- with pale tan to tawny golden to glowing cocoa brown underfur and black cloud-like markings across the body. The Sunda Clouded Leopard's canines are even longer than the Clouded Leopard's. The two Clouded leopard species weigh typically about 28 pounds (12 kg) but some males get up to 50 lbs (22 kg) and are about 30 inches long (76 cm) to 43 in long (109 cm).
Captive Clouded Leopards live up 17 years in captivity. Due to the difficulty of studying Clouded Leopard behavior in the wild, little is known about their lifestyles. Most information comes from captive Clouded Leopards. Most likely, they live solitary lives in the wild, unless mating or raising cubs. They are nocturnal (active at night) and crepuscular (active at dawn and dusk), but recent studies have shown periods of activity during the day. While the Clouded Leopard is highly arboreal, spending most of its time in the trees, but will also hunt on the ground.
As of 2015, both the Clouded Leopard and the Sunda Clouded Leopard are listed by the IUCN as Vulnerable. Its total population size is suspected to be fewer than 10,000 mature individuals, with a decreasing population trend, and no single population numbering more than 1,000 adults. They are hanging in there though.