Paul Goldstein photographed a male and female Jaguar courting in the Pantanal Wetlands in Brazil. They are about to mate.
Jaguar
Kingdom: Animalia
Phylum: Cordata
Class: Mammalia
Order: Carnivora
Family: Felidae
Subfamily: Pantherinae
Genus: Panthera (This is the group containing the four big cats who can roar- the Tiger, the Lion, the Jaguar, and the Leopard)
Species: Panthera onca
There are nine subspecies of Jaguar:
Panthera onca onca – Amazon Rainforest
Panthera onca arizonensis – Mexico
Panthera onca centralis – Central America
Panthera onca goldmani – Mexico, Belize
Panthera onca hemandesii – Mexico
Panthera onca palustris – Southern Brazil
Panthera onca paraguensis – Paraguay
Panthera onca peruvianus – Peru, Ecuador
Panthera onca veracrucis – Texas. There may be a small population in Arizona.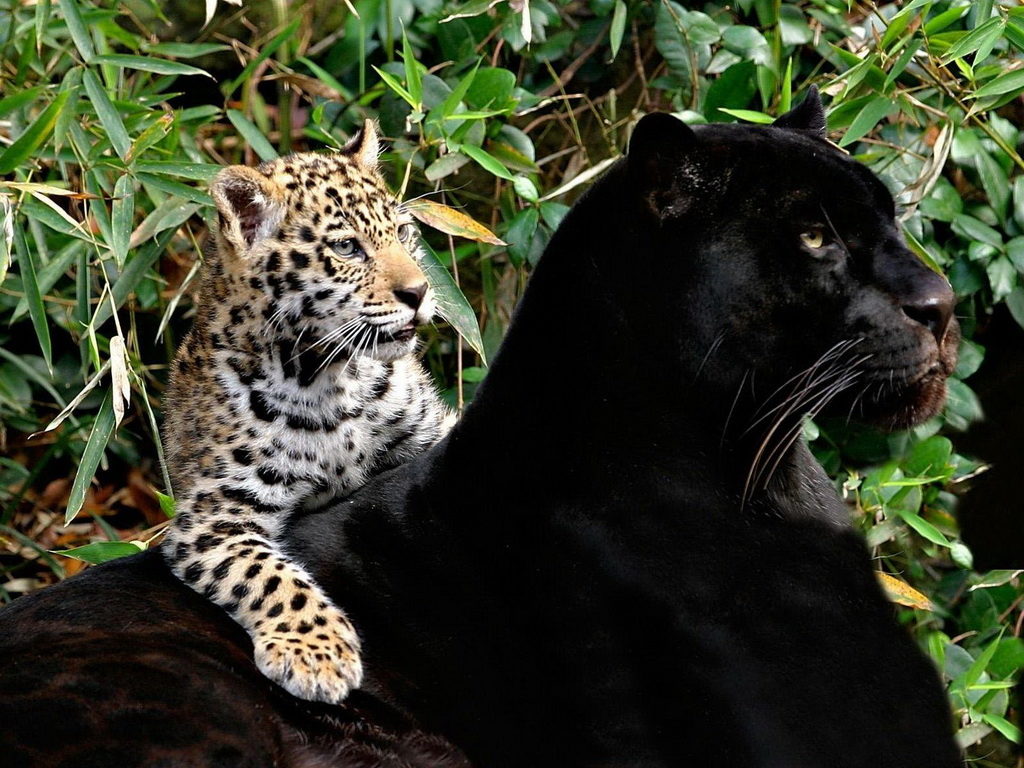 Here is a Black Jaguar with her baby. When a large wild cat like a Jaguar or Leopard is melanistic (meaning their fur is black) they are sometimes called black panthers. There have been reports of black Mountain Lions but there's no photo substantiation yet. Melanistic Bobcats (which are a type of Lynx and much smaller) have been documented however. Note: Melanistic Jaguars and Leopards still have spots, and one can sometimes see them in the bright sunshine.
Cheetahs, Leopards, and Jaguars have different spot formations.
Cheetahs have simple spots.
Leopards and Jaguars have rosettes; a rosette is a rose-like marking or formation found on the fur and skin of some animals, particularly wild cats.
Leopards DO NOT have dots inside their rosettes.
Jaguars DO have dots inside their rosettes.
Both Leopards and Jaguars have raised rosettes that can be felt if one were to run their hand across the fur.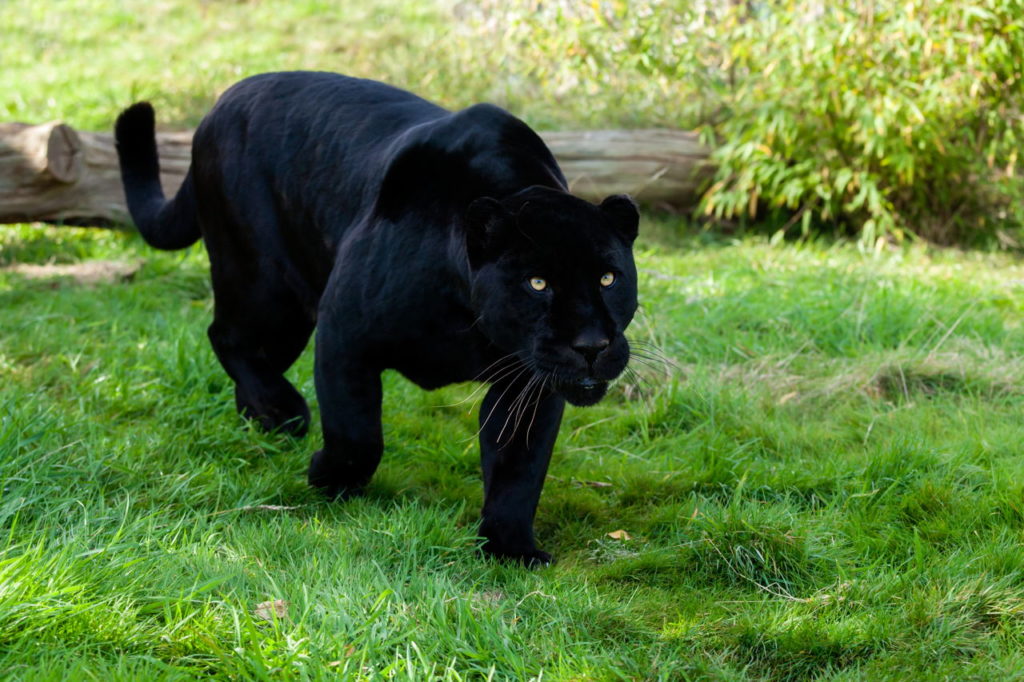 The Jaguar looks a lot like a Leopard but they are pretty different. The Jaguar only lives in the Americas. The Jaguar is heavier and has a blockier head than the leopard, (which lives in the Old World (Africa and Asia).
The Jaguar is a solitary being. They enjoy hunting silently, then ambushing their unsuspecting prey. Jaguars like water and can be found chilling near water sources. They live deep in the Amazon Rainforest but also thrive in open terrain. There is a known and possibly breeding population in Arizona, southeast of Tucson. The Jaguar can weigh up to 115 kg (250 lbs) and lives for 12-15 years in the wild. They live up to approx. 20 years in captivity.
The Jaguar is an opportunistic* stalk-and-ambush predator at the top of the food chain (this means it's an apex predator). Apex predators are also keystone species which means it "plays an important role in stabilizing ecosystems and regulating the populations of the animals it hunts."
The Jaguar has an unusually powerful bite- the strongest of all the other cats. Its bites packs a whopping 700 PSI (pounds per square inch of pressure). It can bite right through the shells of armored animals as well as through actual skulls. It often chomps directly through the skull between the ears thus piercing the brain and making death instantaneous.
As of 2015, the Jaguar is classified as Near Threatened by the IUCN
*Note. In biology, an opportunist organism is generally defined as "a species that can live and thrive in variable environmental conditions, and sustain itself from a number of different food sources. They ain't picky eaters.