Wild Cats: The Marbled Cat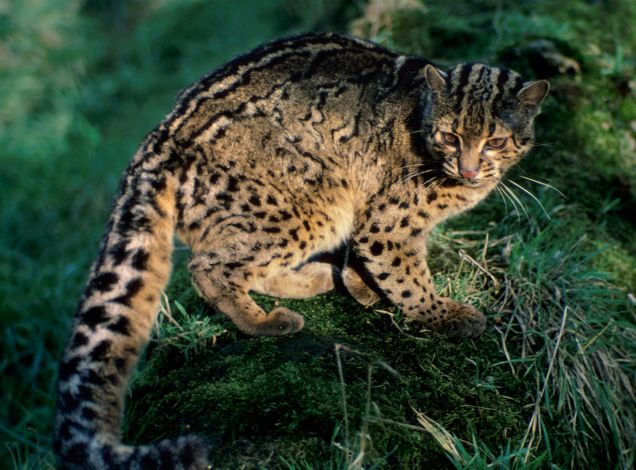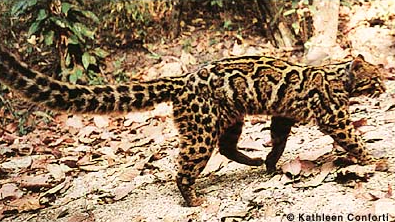 Marbled Cat
Kingdom: Animalia
Phylum: Cordata
Class: Mammalia
Order: Carnivora
Family: Felidae
Subfamily: Felinae
Genus: Pardofelis (the Marbled cat is the only member of this genus)
Species: Pardofelis marmorata
The Marbled cat is a small wild cat found in South East Asia. It's about the size of a large house cat: 45-62 cm long (14-22 in) and weighs 2-5 kg (4.4-11 lbs). It is a fascinating creature.  It has a super long plush tail which it uses as a counterbalance while it maneuvers through tree branches. It is an arboreal cat (tree dwelling/functioning) and even does some hunting up in the trees. It has a gorgeous thick soft coat resembling a Clouded leopard's with black spots, stripes, and elongated rosettes.
The Marbled Cat has unusually large canine teeth which are usually only found in the big cats species. It is a night time and crepuscular (twilight and dawn) hunter, and it enjoys eating birds, squirrels, rodents, and reptiles. A few Marbled cats have been bred in captivity. Two kittens are usually born in a litter and they start eating solid food at two months old, which is also when they start climbing in the trees. They have lived up to 12 years in captivity.
As of 2015 the IUCN lists the Marbled Cat as Vulnerable (fewer than 10,000 individuals are expected to be alive). Indiscriminate snaring is a big problem for them in the wild but they are not found in the illegal Asian wildlife trade very often.