"The Prospector" a short story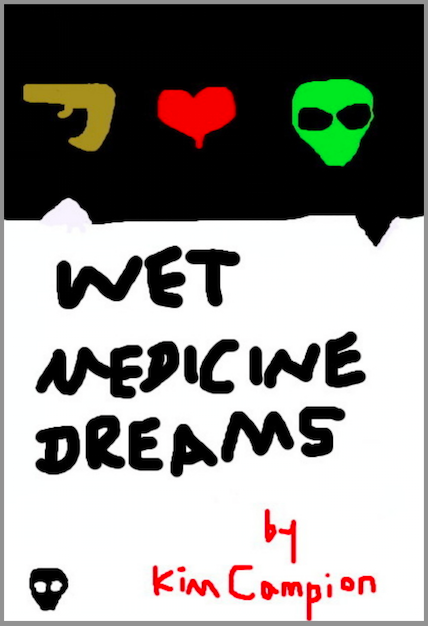 1885
The man was alone when it happened. He was sluicing for gold in Northern California, near Mt. Shasta. A friend of his had found an egg sized gold nugget in Rusty Creek the year previous and only told him about it. The friend had died that spring of consumption and left him his claim. The man had been friends with that other man since they were boys growing up in a small town in Central California. They'd bonded when they were ten and together beat the shit out of the local neighborhood psychopath who was killing all the friendly neighborhood cats and hanging their skins on the barn door. The psycho was two years older than them and already freakishly covered in hair but they were brave enough to tell him to stop what he was doing. He challenged them and told them to fuck off but they both hit him until he was on the ground crying and yelling for them to stop. They didn't hurt him anymore and he quit hurting the cats. The psycho boy actually ended up as a decorated volunteer Civil War veteran who fought for the Union and in the early seventies even survived an attempted scalping. Probably because he learned his lesson with the cat skinning is why he didn't have to lose his own. He'd accrued a little mercy karma. Incidentally, the Indians weren't the ones to start scalping. Some perverted white people invented that and sent the scalps home as souvenirs, even sewed them on dolls heads. The Indians only started scalping in retaliation.
Anyhow, the man had been working the claim for six months by himself. His only company was his lady mule Bernice. Bernice had developed an infection in the frog of her foot and though it was healed, it left her lame and unable to carry a pack. The foot still bothered her because she would put all her weight on the other leg and sometimes whicker softly when it was aching. The man still groomed her and talked to her every day and kept her as a companion. Bernice liked to hang out next to him while he squatted at the sluice box and watched anxiously for gold nuggets to appear in the slatted twigs that were fitted into the bottom of the sluice.
The man had built the sluice box himself and was proud of it. It was constructed with scrub oak and was four feet long and a foot and a half wide. It was basically a shallow wooden trough with little ponderosa pine carved ribs fitted into the bottom of it. The man put the trough into the stream and poured dirt he'd dug up from around the claim into the wider end of it that was facing upstream. The water would wash the sediment down the trough and into the creek, hopefully leaving behind heavier items like gold stuck in the wooden ribs at the bottom of the sluice. So far nothing though. He was getting worried because he'd only found one tiny granule of gold encased in clear quartz. It wasn't worth enough to even take to town. He would have given it to a lady friend if he'd had one but the whores cost money.
The man had spent all his money on a certain prostitute and bags of beans and flour and sugar when he'd first come out to the claim. This one prostitute, he'd begun to fall in love with her. They'd shared some laughs in her bed. Her excessive drinking worried him though and he suggested she drink root beer instead of alcohol. She just laughed at him. He thought maybe he could help her and proposed marriage. She just gave him a kiss on the nose and said she wasn't the wifely kind. Last time he'd been to town he found out she'd died. It was from some kind of kind of seizure. He went to her funeral. After that Bernice got lame and he quit going into town. He subsisted on squirrel meat and fish and some berries and plants. Acorns when he felt like mashing them and boiling them forever to get the poison out. Instead of having sex he cleaned his pistol repeatedly.
One night it was a full moon and he was sluicing by the light of it. He'd already put Bernice to bed. She had a blanket and slept standing up next to his own bed in the little cabin. He didn't hear any noises at first except for the crackle of gravel pouring into the box and the creek water washing it down. Absentmindedly he fingered the slats for the heavier chunks that he dreamed wouldn't end up being rocks but gold. Then he looked up and saw a silver disk hovering over him and the creek. His eyes widened and then the disk moved over the grass next to the cabin and landed there. It had no legs supporting it, it seemed to silently defy gravity. Or it had invisible legs because it was very solidly situated about eight inches above the grass.
The man was afraid but also bored and lonely. He secretly welcomed a potentially propitious or calamitous event. A door opened in the craft and a beautiful bald woman stepped out of it. She was very tall and slender and willowy, about six foot five. Her skin was smooth and palish grey. The man just stood in the creek water and was looking at her. She telepathically communicated to him that she would like to couple with him. He was sure now he was dreaming but did not want to wake up. He walked through the water and met her in the grass. His head came up to just below her breasts. She had two of them and the nipples were full and hard and pointing to her homeland. She kneeled down so he could get one in his mouth and then she laid down so he could put his penis inside her. She felt better than any human woman he had ever made love to and when he spilled his seed she shuddered and her large pale iris-less eyes sent wonderful energy into his own. They lay there in the grass for hours.
He stroked her long smooth limbs that reminded him of a dolphin's flesh he'd once pet in the ocean when he was swimming as a boy. She ran her skinny fingers through his hair. They had a lovely time together. Before she left, she telepathically told him the sluice box was killing all the fish in the creek by muddying the water. Alright I'll switch to panning he said. Then two shiny objects came levitating out of the open door of the spaceship and landed at his feet. They were smooth chunks of gold the size of a watermelon. They then broke into pieces, tumbling into hundreds of marble sized balls of gold and she explained that this was so he could carry a small amount of them safely into town, and bury a goodly portion of them if he desired. She started walking back to the ship. Wait, he told her in his mind. Then he felt shy but he asked anyway. Will you heal my mule he asked her.
She disappeared and then the man heard a surprised whicker in the cabin. Within a few moments the craft was gone. It didn't sound like a machine it just silently moved upwards and then sideways over the water and then was gone. The man went into his cabin. Bernice showed him her foot. It was strong and true again.
Let's buy a beachhouse said the man.
The man was rich now. He lived a long and full life by the sea. His neighbors wondered why he never married. But they didn't know he had a secret long distance relationship. And that it had even born fruit. He went up in the spaceship many times and his alien wife showed him their children. At first he was worried because they were suspended in see-through jars and were very still. But when he beckoned to them through the glass-like material their eyes snapped open and they waved at him excitedly. Eventually they hatched out of their jars and he got to hold them and play with them and give them rides on Bernice.
Copyright © 2013 by Kim Campion
Books for sale on Amazon, iTunes, and Smashwords