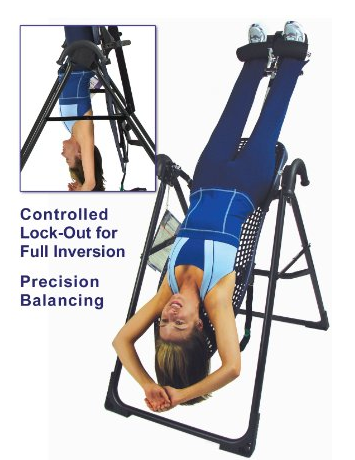 The deal with anti-gravity tables (or inversion tables) is this: they keep you young because gravity is the ultimate thing that ages and kills people. Gravity constricts the blood vessels and smashes down the vertebrae with the pressure and keeps the blood from feeding our brains. Just hanging upside down a few minutes a day has healed so many people's back issues and keeps them so supple and stretched out. The brain is provided with extra oxygenated blood while upside down as well. It also keeps the organs up in the body cavity where they belong instead of slowly sagging down. Ten minutes a day undoes the effects of ten hours of being on your feet under gravity. Even just a couple mins a day has outstanding benefits. I only do a couple mins a day and I don't get migraines anymore. 
I ended up purchasing the EP-560 basic model by Teeter Hang Ups, which after I did the research, was the only company I thought would be smart to purchase from. Their inversion tables are also the only UL certified ones on the market. The EP-560 is their base model and in my opinion, the only one you need. It costs 330$ which admittedly is expensive, but it is very solid and well made, and has a five year warranty. The company also sells refurbished models for cheaper.
Another reason the EP-560 is superior to many other inversion tables is that goes ALL THE WAY UPSIDE DOWN (some of the cheaper ones only bring you down to a forty five degree angle.) It's great to be able to completely stretch the spine by hanging absolutely upside down. If that's not physically possible though for someone though, then a being at a backwards angle is still very beneficial. The Teeter Table can accommodate a variety of angles.
P.s. No one is paying me to say this. This anti-gravity table just plain works. I consider it as important to my health as exercise.
You can buy them through the Teeter website or elsewhere online as well.