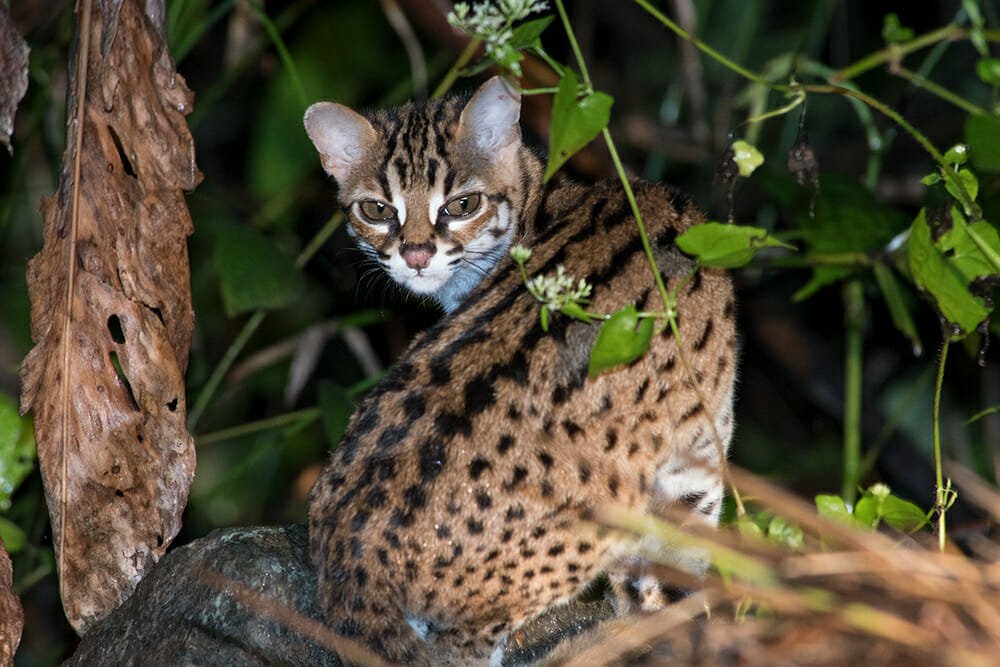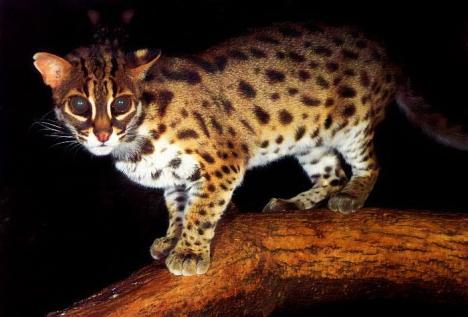 Sunda Leopard Cat
Kingdom: Animalia
Phylum: Cordata
Class: Mammalia
Order: Carnivora
Family: Felidae
Subfamily: Felinae
Genus: Prionailurus
Species: Prionailurus javanensis
Sunda Leopard Cat conservation status: (the IUCN has not yet updated their site to recognize the Sunda Leopard Cat as a distinct species from Mainland Leopard Cat: https://www.iucnredlist.org/species/18146/50661611
The Sunda Leopard Cat and the Mainland Leopard Cat used to be considered the same species, but "On the basis of recent molecular studies & clear morphological differences, the species was split into two species: the Mainland Leopard Cat (Prionailurus bengalensis) inhabiting Mainland Asia from Pakistan to South East Asia, China, Russian Far East, Tsushima Island, Iriomote Island (Japan) and the Sunda Leopard Cat (Prionailurus javanensis) inhabiting Java, Bali, Borneo, Sumatra, Palawan, Negros, Cebu, Panay, Philippines and possibly the Malay Peninsula."
On the surface however, the two wild cat species are remarkably similar:
The Sunda Leopard Cat is resembles a tiny, long-legged Leopard. It has a small shapely head and large rounded ears. While this species is generally solitary, it may be somewhat tolerant of quiet humans. Sunda Leopard Cats have been observed in forest reserves in Borneo as well as on the outskirts of rural human settlements and farms.
The Sunda Leopard Cat lives on Java, Bali, Borneo, Sumatra, Palawan, Negros, Cebu, Panay, Philippines and may also be found on the Malay Peninsula.
The Sunda Leopard Cat weighs 1.6-8 kg (3.5-17.6 lbs). Their diet consists mainly of rodents. They can live 13 years and probably longer.
More wild cats here: https://kimcampion.com/wild-cats/wild-cats/